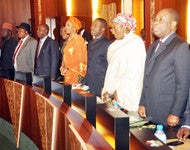 The Federal Executive Council (FEC) of Nigeria has approved NGN58.6bn ($368.7m) contract for the construction of ship building facilities and a dockyard in the Delta region.
The project is in line with the madate of Nigerian Maritime Administration and Safety Agency (NIMASA) under Section 22 (1k) of the enabling law of the agency.
Under the regulation, NIMASA will develop and implement policies and programmes to facilitate the growth of maritime infrastructure in the country.
According to Nigeria Minister of Transport Alhaji Idris Umar, the project will be divided into two stages, where the first stage will involve construction of maritime equipments and structures, ancillary buildings and electro-mechanical works and facilities for the ship building at a cost of NGN40.2bn ($252.9m).
The second stage will involve all the civil and infrastructure works for the facilities at a cost of NGN18.4bn ($115.8m).
Umar said that Nigeria has a very serious dearth in the ship building capacity in the country and it is, therefore, imperative that they develop the facility in order to curtail the incessant capital flight that is being experienced by the economy.
"Annually, we have to be acquiring vessels and ships outside the country which is telling on the economy," Umar added.
"This project has the propensity to drive sustainable development and step up capacity building in the maritime sector of the economy.
"It will also help Nigeria to take its rightful place among the developed maritime nations across the world."
Once completed, the facility will be involved in dry docking of ocean-going vessels, which will be useful for the training of Maritime Academy cadets.
In addition, there would be a tripartite deal between NIMASA, the contractor and the private sector to ensure sustenance of the facility.
In another development, FEC has also granted a NGN274.9m ($1.72m) contract for the consultancy services for the dredging of escravos, Warri, Aladja to Koko channel in Delta.
Umar said the contract for the dredging of the escravos would be awarded in 2014 at the completion of the consultancy services contract.
---
Image: Officials at the FEC meeting in Abuja, Nigeria. Credit: News Agency of Nigeria.