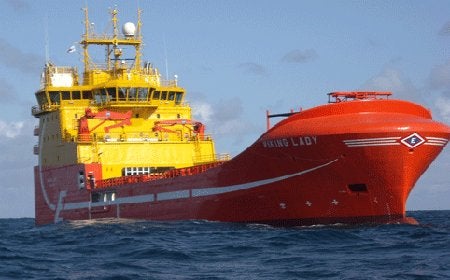 DNV along with its partners, Eidesvik Offshore and Wärtsilä have made progress with plans to integrate a battery pack power directly into their offshore supply vessel, the Viking Lady making it a completely hybrid vessel similar to a hybrid car.
As part of Fuel Cells for Low Emission Ships (FellowSHIP) project, a joint industry R&D project, the ship has already been installed with gas-diesel electric power system supplemented by a fuel cell, making it first merchant vessel to use a fuel cell as part of its propulsion system.
Since 2009, LNG-fuelled vessel has run for more than 18,500 hours using an onboard fuel cell technology with an electrical output of 330 kW.
DNV project manager Bjørn-Johan Vartdal said that the hybrid system will reduce energy consumption.
"When operating, for example, on dynamic positioning, there will be a major fuel saving potential," Vartdal said.
"When in harbour, too, the ship should be able to operate on the fuel cell and its battery power alone, which will reduce emissions significantly."
During this phase of experiment, an energy storage capability will be introduced directly to the energy system instead of an external fuel cell that was installed previously.
Once the battery pack is in place, the Viking Lady will operate using a hybrid system similar to what has been installed in hybrid cars.
According to estimate, the hybrid energy system could offer 20% to 30% reduction in overall fuel consumption and CO2 emissions through smoother and efficient operation between engines and fuel cell.
Based on the actual costs, the return on investment period for the hybrid system is expected to be less than two years.
The FellowSHIP project will continue till 2013 which has been experimenting with an integrated fuel cells on board vessels and offshore platforms with the goal of making them commercially viable.
Image: The Viking Lady will operate using a hybrid system similar to what has been installed in hybrid cars. Photo: Eidesvik