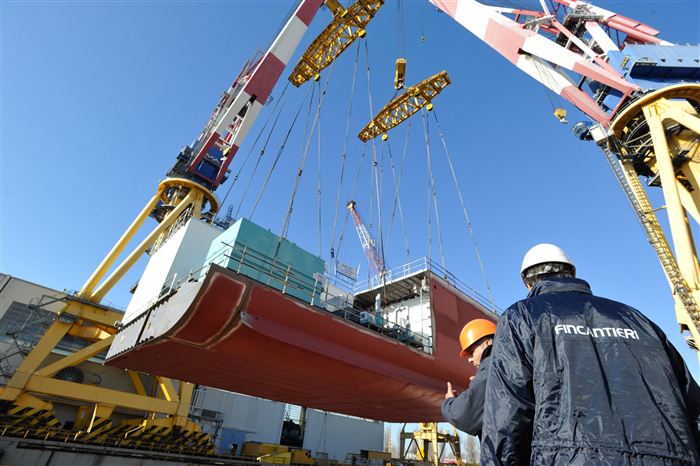 Italian shipbuilder Fincantieri has started the dry-dock phase construction of Costa Diadema, the future flagship of Costa Cruises, at its Marghera shipyard.
The ship's first building block, which is 29m long, 15.7m wide and weighs about 504t, was laid on the bottom of the dock.
Construction and fitting-out will be carried out until the vessel's scheduled delivery on 30 October 2014.
Costa is paying about €550m for the cruise vessel, which will have a length of 306m, breadth of 37.2m and will be capable of accommodating a total of 4,947 passengers as well as 1,253 crew members.
With a gross tonnage of 132,500, Costa Diadema is set to become the largest Italian-flagged cruise ship in the world.
Costa Cruises CEO Michael Thamm said: "The Costa Diadema consolidates our alliance with Fincantieri, which has already resulted in the building of ten new ships for us since 2000, worth a total of almost €5bn, with the creation of wealth and employment for the country as a whole."
The Italian shipbuilder delivered a €510m cruise ship called Costa Fascinosa to Costa Cruises in May 2012.
The 290m, 114,500gt cruise ship, which has 17 decks and can accommodate 3,500 passengers, also features a 3,280ft² relaxation and entertainment area, raised whirlpool tubs, 13 bars, a casino, a piano bar and five restaurants.
The ship is equipped with a cold ironing facility, allowing the ship to plug into shore side electric power, and all solid waste is collected for recycling rather than being dumped overboard.
---
Image: The first block of the new Costa Diadema cruise ship is put in place by Italian shipbuilder Fincantieri. Photo: Fincantieri.