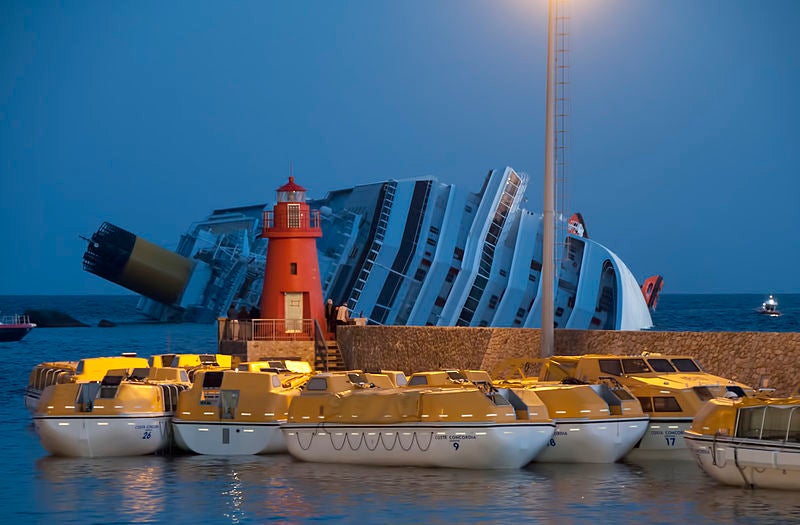 Five employees of an Italian cruise company have been sentenced to jail by a court in the Tuscan town of Grosseto in Italy for manslaughter over the Costa Concordia shipwreck off the Italian coast in 2012.
On 13 January 2012, Costa Concordia, which was carrying 3,200 passengers and 1,000 crew members, ran aground on the Tuscan island of Giglio off the west coast of Italy killing 32 people.
The Italian court accepted plea bargains from five defendants including director of the Italian cruise company's crisis unit Roberto Ferrarini; cabin service director Manrico Giampedroni; first officer Ciro Ambrosio; Indonesian helmsman Jacob Rusli Bin; and third officer Silvia Coronica.
The longest sentence has been handed to Ferranini, who was sentenced to two years and ten months in jail.
Manrico Giampedroni was sentenced to two years and six months while Ciro Ambrosio, Jacob Rusli Bin and Silvia Coronica got sentences ranging from 20 to 23 months.
The plea bargains made by the five convicted could spare them custodial sentences; sentences of under two years are suspended under Italian law, and longer sentences can be appealed or replaced with community service.
The cruise ship's captain Francesco Schettino has been denied a plea bargain and is now being tried separately on charges of multiple manslaughter for causing the shipwreck and abandoning the vessel with thousands still aboard.
The next hearing in the captain's case is scheduled for 23 September 2013; if convicted of all charges he faces up to 20 years in prison.
US-based Costa Crociere, a unit of Carnival, has agreed to pay $1.3m to settle any possible criminal charges against the company.
---
Image: The 114,500t vessel sank off the Italian coast in January 2012 killing 32 people. Photo: Rvongher.