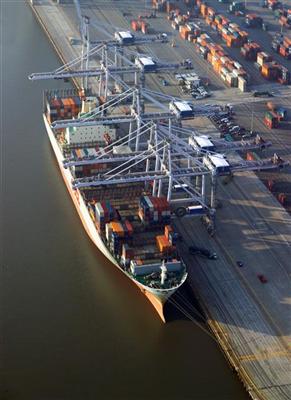 The US state of Georgia has approved an additional $50m in funding for the Savannah Harbor Expansion Project (SHEP).
The funding will bring the total amount Georgia has provided to SHEP to $231.1m.
Work under the project includes deepening the harbour from 42ft to 47ft to accommodate larger container vessels transiting the Panama Canal following its expansion in 2015.
The deepening of the harbour will help vessels as large as post-panamax container ships arrive and depart with better scheduling flexibility.
The project is also intended to improve general navigation, with wider channel turns and a larger turning basin.
Georgia Governer Nathan Deal said SHEP will minimise shipping costs for private firms by at least $213m a year, according to a study by the US Army Corps of Engineers.
"This infrastructure investment is crucial, not just for the port, but for the economy of Georgia and the entire south-east," Deal said. "A deeper Savannah Harbor means greater efficiency for 21,000 US companies, 75% of which are headquartered outside of Georgia."
The new funding was included in Deal's 2014 budget request; the overall cost of SHEP is expected to be $652m.
In 2011, the Port of Savannah handled 8.7% of US containerised cargo volume and 12.5% of all US containerised exports.
---
Image: The deepening of the Savannah harbour from 42ft to 47ft will allow larger container vessels to arrive and depart with more flexibility. Photo: Georgia Ports Authority/David Smalls.