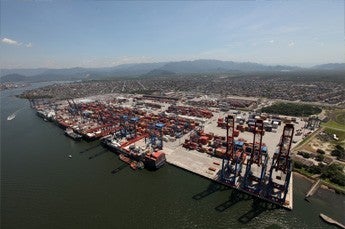 UK-based shipping consultant Drewry Maritime Equity Research has predicted that the global container trade will increase by 4.7% in 2013 and 5.7% in 2014, reaching 684 million teu by the end of 2014.
According to Drewry's latest forecasts, port capacity is expected reach 994 million teu by 2014, increasing at a compound annual growth rate (CAGR) of 3.9% since 2011, while average utilisation will rise to about 69% in 2014, from 67% in 2011.
The company's forecast predicts that there will be significant regional variation, which will lead to very different utilisation levels in different areas.
In 2014, Drewry anticipates that ports in emerging regions such as the Far East and south-east Asia are expected to see higher average usage rates of about 75%, while there will be an average utilisation of 57% in Western Europe due to flagging demand.
In early 2013, a rise of 6.4% was recorded in the share prices of the major port companies under Drewry's coverage.
"According to Drewry's latest forecasts, port capacity is expected reach 994 million teu by 2014."
During the period, regional economic differences led to diverging share prices, with DP World and ICTSI up by 34% and 22% respectively, while Dalian Port and Hamburg Hafen and Logistik (HHLA) have seen decreases of eight percent and six percent respectively.
According to the research, companies such as Cosco Pacific and HHLA will see a rise in their shares in 2013.
Cosco Pacific is expected to take advantage of its stable revenues from container leasing, its operation in the Bohai Rim and the recovery of global trade.
HHLA is expected to benefit from its presence in hinterland traffic, growth in transhipment in the Baltic Sea, as well as the Elbe River dredging project.
The consultant also covers International Container Terminal Services (ICTSI) and South American container handling firm Santos Brasil, which expects to commence operations at new terminals including BTP and Embraport in 2013.
On an average, Drewry expects the 12 ports under coverage to deliver 8.4% growth in sales, 10.8% growth in EBITDA and net income growth of 14.3% in 2013.
---
Image: Santos Brasil expects to start operations of new terminals BTP and Embraport in 2013. Photo: Santos Brasil.