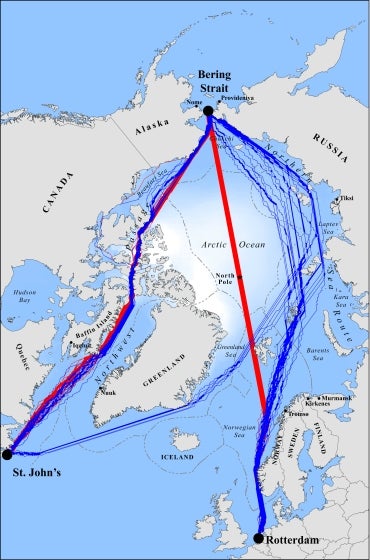 Global warming could make Arctic Ocean ice fragile enough for ordinary ships to sail in the region without any need for icebreakers by 2050, according to a study by the University of California, Los Angeles (UCLA).
The study revealed that global warming will make the frigid routes more accessible due to melting polar ice during the late summer.
UCLA lead researcher and professor of geography Laurence Smith said: "The development is both exciting from an economic development point of view and worrisome in terms of safety, both for the Arctic environment and for the ships themselves."
The study, which is based on independent climate forecasts for the years 2040 to 2059, represents the first thorough analysis of trans-Arctic shipping potential as global temperatures continue to rise.
By 2050, vessels should be able to sail directly over the North Pole, reducing trading costs between Europe and China, the study claims.
The study reveals that ordinary vessels should be able to travel easily along the Northern Sea Route and the easiest time would be in September, when annual sea ice cover in the Arctic Ocean is at its thinnest level.
The Arctic ice sheet is expected to be reduced to the point that polar icebreakers will be able to navigate between the Pacific and Atlantic oceans by passing over the North Pole.
The report shows that until recently ice has blocked access to the shortcut between Asia and North America or Europe and in the past two years, the ice has started melting, paving the way for ordinary seagoing vessels with escorts.
A total of 46 voyages successfully crossed the Northern Sea Route in the summer of 2012.
By 2050, the Northwest Passage will be navigable to make the trip from the North American east coast to the Bering Strait in 15 days, compared to 23 days for the Northern Sea Route, about a 30% time saving.
The Northwest Passage is currently used only one out of seven years on an average, which is not feasible for commercial shippers.
As of now, the Northwest Passage is the most direct route from Asia to eastern Canada and the north-east US.
---
Image: The fastest navigation routes for vessels seeking to cross the Arctic Ocean by 2050 include the Northwest Passage, the North Pole and the Northern Sea Route. Credit: University of California, Los Angeles.