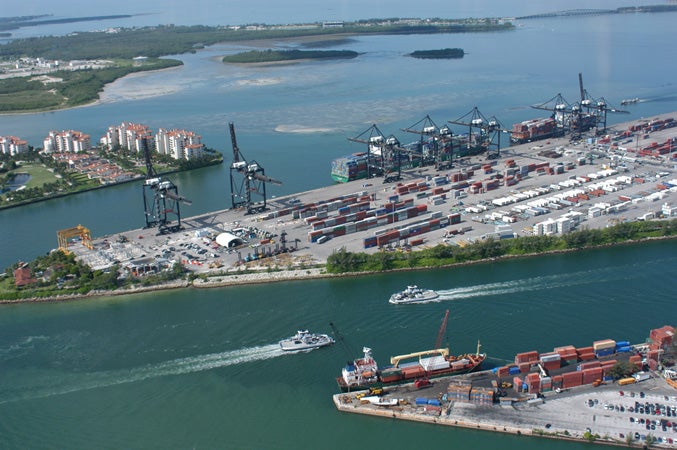 US-based Great Lakes Dock and Dredge has won a $180m contract from the US Army Corps of Engineers to deepen PortMiami's channel in Florida, US.
The dredging project is part of PortMiami's plan to deepen the channel to allow Post-Panamax ships to enter into the port, which is expected to come after Panama Canal expansion.
Under the deal, the company will deepen PortMiami's shipping channels from the current 44ft to a depth of 50ft-52ft and widen a portion of one of the channels to accommodate larger ships.
Miami's deep dredge project is scheduled to begin in August 2013 and is expected to be completed during 2015 when expanded Panama Canal is scheduled to open.
Since the deepening of the port will be done in the environmentally sensitive waters of one of the busiest ports in US, important aspects of the project will be monitoring of seagrass and coral resource, water quality and sedimentation.
During the dredging, the company will restore over 16 acres of sea grass and create over nine acres of artificial reef in order to meet environmental concerns in Biscayne Bay.
The project will also see the relocation of hard coral colonies greater than 25cm and those that are between 10cm and 25cm in order to reduce impact on existing resources.
PortMiami director Bill Johnson said, "Together with our state and federal partners, the Port is committed to upholding the highest environmental standards for the project."
Additionally, divers will monitor natural resources near the project for turbidity and sedimentation effects before, during and after all dredging activities to meet the protocols set by the Florida Keys National Marine Sanctuary.
Base work contract of the project has already been awarded by the US Army Corps of Engineers, which includes excavation of the offshore entrance channel to the port.
Option work in the base work project is scheduled to be awarded by 31 January 2014, which includes deepening of the inner channels to allow ships to access the berthing areas, and bring the total project value to $206m.
The Florida State Government has provided $112m for the project.
---
Image: The PortMiami deep dredge project will start in August 2013 and is scheduled to be completed by 2015. Photo: Urban.