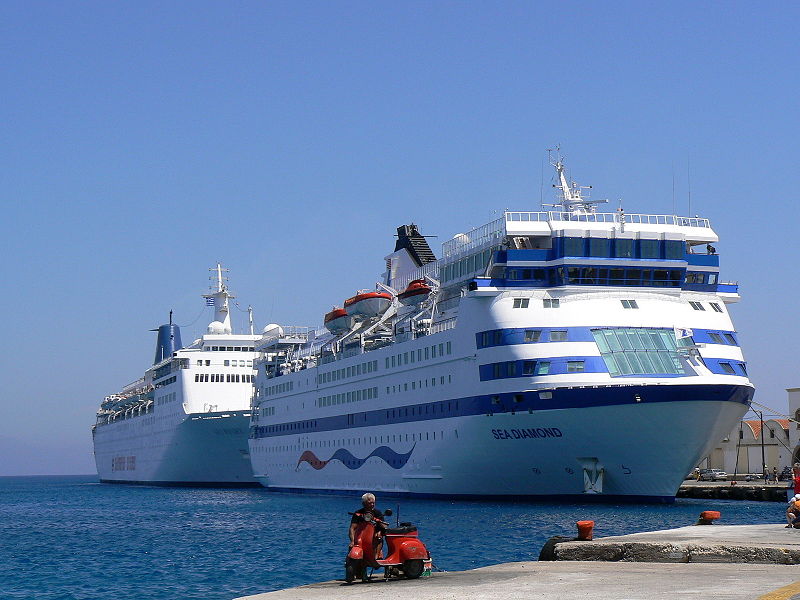 A Greek court has convicted nine officers and shipping company officials for their negligence in the sinking of the Sea Diamond cruise ship off Santorini in 2007.
Louis Hellenic Cruises's Sea Diamond ship is reported to have been carrying around 1,600 people when the accident took place in April 2007.
The ship hit rocks off Santorini's cliffs and sank two hours later with most of its fuel still on board.
Two French tourists were reported missing and are assumed dead while the other passengers and the crew were evacuated.
The Piraeus court imposed suspension sentences ranging from six months to 12 years.
Greek online newspaper EnetEnglish.gr reported that the court sentenced the navigation officer, chief engineer, a security officer, the company's legal representative and an inspector/auditor.
Louis Cruises told Cruise Critic that it is appealing the decision.
"Maintaining their full respect and trust in the independence of the Greek judicial system, the Ship owners and Ship managers of MV Sea Diamond have appealed against the decision of the first degree court with the certainty that the remaining charges against those employees not already cleared, as well as the legal issues set in the decision, will be dropped by the Higher Court of Appeals and they will be eventually vindicated, " the statement added.
The Greek Government has said that about two-thirds of the 400 tonnes of fuel onboard was pumped out after the sinking to eliminate major pollution risks.
---
Image: The Sky Wonder docked behind the Sea Diamond, prior to the Sea Diamond sinking. Photo: Courtesy of Aussiecruiser.