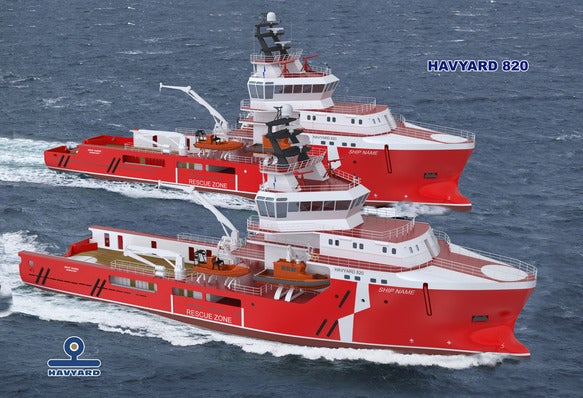 Norwegian Havyard has won a second contract from Atlantic Offshore to design a field support vessel (FSV) based on the HY820 design.
This deal follows a previous order from Atlantic for a similar vessel in June 2012, which will be chartered by French oil company Total. The second vessel will be chartered to Shell UK under a five-year contract.
The new vessel has a length of 66.8m, is 16m wide and will be deployed in the North Sea, east of Aberdeen, Scotland.
It will be certified for rescue of 300 people and will be capable of travelling at a speed of 14 knots and towing with up to 65,000kg bollard pull.
The vessel will also contain loading and storage capacity to support nearby Shell rigs.
Atlantic Offshore said that it is yet to decide where the ship will be built, but a decision is expected soon.
Havyard Global Solutions sales manager Gisle Vinjevoll Thrane said that the design of this particular FSV has been developed in close collaboration between Atlantic Offshore and Havyard Design & Engineering.
"Havyard will deliver a complete design package as well as an extensive equipment package consisting of our own and external suppliers' equipment," Thrane said.
The first of the two vessels has a 400m² loading and storage capacity and is scheduled to be delivered in the summer of 2014. Following the delivery of the vessel it will be chartered to Total for four years, with an option of another four years.
As per the contract signed in June 2012, Havyard Power & Systems will deliver several other products and services to the ship, including electro engineering, IAS and PMS, ConceptBridge, NavCom and the Bridge Watch System.
The ship will be equipped with modern solutions for fire and emergency preparedness and will be able to relieve oil platforms by offering cargo or storage capacity.
---
Image: The 66.8m vessel will be chartered to Shell UK under a five-year agreement. Photo: Havyard