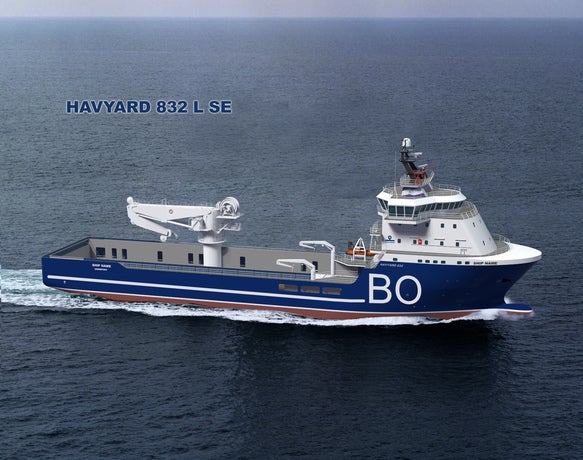 Havyard Global Solutions has won a contract from China-based CSSC Guangzhou Huangpu Shipbuilding to provide designs for two Havyard 832 L SE platform supply vessels (PSVs).
Scheduled to be delivered in 2014, the two vessels will be built by Huangpu shipyard for Basic Offshore, a new shipping firm that operates in the West African market.
The 4,300dwt Havyard 832 L SE PSV design will have a length of 86m, breadth of 17.6m, deck area of 901 square metres and will be capable of accommodating 25 crew members.
Powered by a pair of 1600KW azimuth thrusters and four 1550kW gen sets, the 4300t vessel can cruise at a speed of 15 knots.
Basic Offshore also has an option to purchase six more Havyard 832 L SE vessels from the Chinese yard, which builds larger trade tonnage as well as specialised offshore vessels.
The Havyard 832 L SE PSV design is an extended version of the original Havyard 832 with a larger crew capacity.
The PSVs will also be equipped with an offshore crane to carry out light subsea construction work.
Havyard said about 20 ships of the Havyard 832 design have been sold so far around the world.
---
Image: The Havyard 832 L SE design PSV will have a length of 86m and breadth of 17.6m and will be delivered in 2014. Photo courtesy of Havyard.