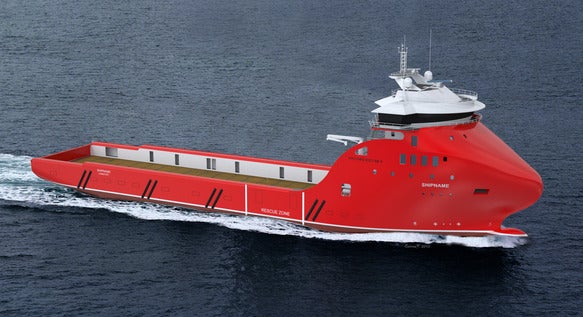 Norway-based Havyard Group has secured a NOK300m ($51m) contract from an unnamed shipowner to design and build a platform supply vessel (PSV) based on its Havyard 832 MKII design.
The PSV, capable of travelling at 15 knots, is scheduled to be delivered in the second quarter of 2014.
The 4,100dwt vessel will have a length of 88m, breadth of 17.6m, deck area of 900m² and will be capable of accommodating 23 people.
Havyard Global Solutions director Tor Leif Mongstad said that since the first Havyard 832 was delivered in 2009, there have been almost 20 signed contracts or vessels constructed of the type.
"If we compare the first one delivered in 2009 with some of the most recent vessels delivered, you will find many improvements, most of these based on feedback from users of the vessels," Mongstad said.
Compared to earlier designs, Mongstad said the new Havyard 832 MKII can achieve a 20% reduction in fuel consumption under certain conditions.
Major improvements in the design have been made at the aft of the ship, the propulsion line and the forward part of the ship.
The forward part of the PSV is designed for better motion and resistance in bigger waves, while at the same time maintaining good speed in more moderate seas.
At the aft of the ship, the use of twin skegs – bulbs in front of azimuth thrusters – reportedly improves the influx of water to the thrusters, making them more efficient.
---
Image: The Havyard 832 MKII PSV will have a length of 88m and breadth of 17.6m, and will be delivered in the second quarter of 2014. Photo: Havyard