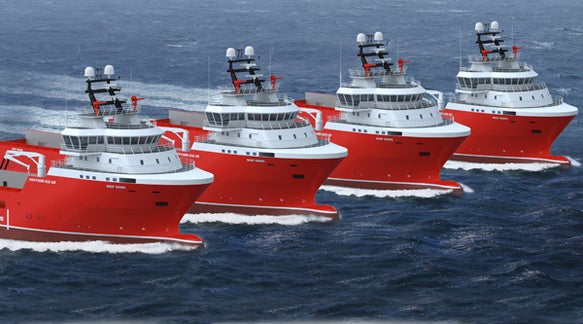 Norway-based Havyard has won a contract from China Oilfield Services (COSL) to provide designs for the construction of four vessels.
Under the deal, the company will provide the Havyard 832 design for COSL's 6000 HP fleet of supply vessels.
COSL carried out an in-depth technical and commercial evaluation prior to awarding the contract to Havyard as part of its fleet renewal programme.
The 4,000dwt Havyard 832 platform supply vessel (PSV) design will have a length of 78.5m, breadth of 17.6m, draft of 6.5m and deck area of 800m².
Powered by a pair of 1,600KW azimuth thrusters and four 1,200kW gen sets, the vessel can cruise at a speed of 15 knots and will be capable of accommodating 25 crew members.
COSL has the largest fleet of oil rigs and offshore vessels in China with 34 drill rigs, two accommodation rigs, four module rigs and eight land-based drill rigs, in addition to 75 supply vessels, eight seismic vessels and five standby vessels.
As well as China, COSL also operates in North and South America, the Middle East, Africa, Europe, South-East Asia and Australia.
---
Image: The Havyard 832 design PSV will have a length of 78.5m, breadth of 17.6m and will carry 25 crew members. Photo: Havyard.