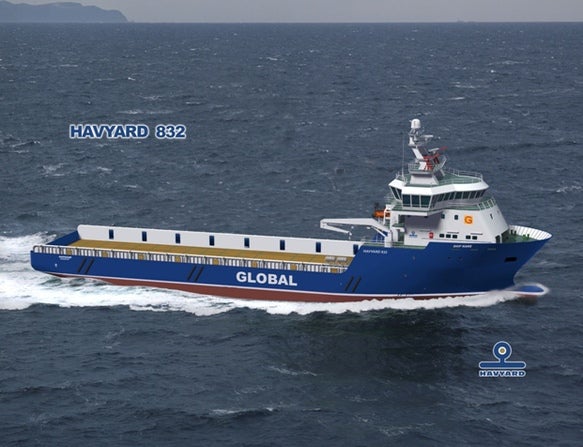 Norway's Havyard Group has won a NOK270m ($45m) order from India's Global Offshore Services (formerly Garware) to build a platform supply vessel (PSV).
The PSV order also has an option for a second similar vessel and if the option is exercised, the two vessels will be the seventh and eighth to be built by Havyard for Global Offshore.
The vessel will be of Havyard 832 design, having a length of 79.6m, breadth of 17.6m, and a capacity of 4000dwt.
It will have a deck area of 800m², accommodate 26 people and operate at a speed of up to 14 knots.
Five vessels have already been built and delivered to the Indian shipping firm from Havyard Ship Technology in Leirvik, Norway.
The Norwegian firm is currently building another Havyard 832 design vessel which is expected to be delivered from the Leirvik shipyard in March 2013.
The PSV is scheduled to be delivered in July 2013 while the optional vessel of the same design is slated to hit the water in March 2014.
Total value of the eight vessels ordered by Global Offshore at Havyard is around NOK2bn ($330m).
Additionally, the two vessels on order are the 16th and 17th design sold of the Havyard 832 design.
Currently, Global Offshore has 12 vessels, including five PSVs, six anchor handlers and one large barge, which are being operated in the North Sea, Brazil, India and in West Africa.
Under an agreement signed earlier with Havyard Ship Technology (HST), Havyard Group is to act as the purchasing coordinator for Global Offshore Services in all its future operating and maintenance needs worldwide.
---
Image: Havyard 832 design PSV will have a length of 79.60m and breadth of 17.60m is scheduled to be delivered in July 2013. Photo: Havyard