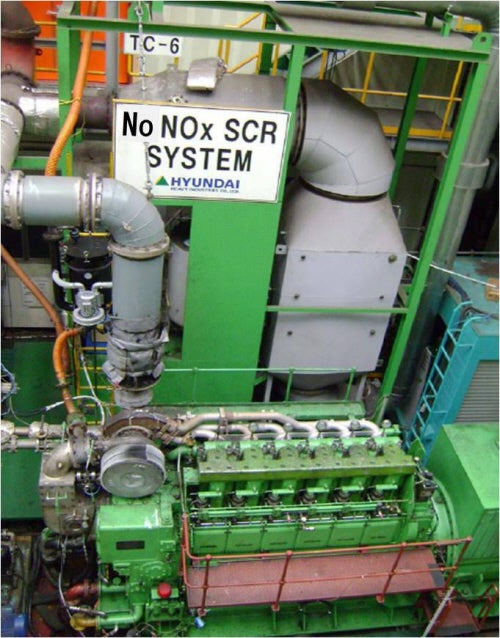 South Korea's Hyundai Heavy Industries (HHI) has said that it will install 18 eco-friendly gas emission reduction systems for three drillships ordered by Rowan in June 2011.
Using the HHI-developed catalyst to separate NOx into nitrogen and water, the selective catalytic reduction (SCR) system can reduce vessel's NOx emissions by more than 95%.
The three drillships are part of a $1.12bn order and a $600m order awarded to HHI by Rowan in June and November 2011, respectively.
Each of the vessels have a length of 229m, are 36m wide and are capable of operating at water depth of 12,000ft. The drillships are scheduled to be delivered in the second half of 2013 and the fourth quarter of 2014 respectively.
The vessels, which will be built to Gusto P10,000 design, will be equipped with a thruster canister, which helps keep the ship in position while drilling.
Ships canisters do not need to be dry-docked for maintenance as the thruster can be lifted onto the ship when work needs to be carried out.
The demand for emission reduction devices is expected to increase before the International Maritime Organization (IMO) TIER III regulation takes effect, in 2016.
In accordance with the IMO regulations, ships built from 2016 have to reduce NOx 80% less than Tier I level to 1.96g and 3.4g per kilowatt hour.
In addition to the SCR system, HHI is also developing an exhaust gas recirculation (EGR) system to reduce ship's emission gas.
In June 2012, HHI had completed tests and started exporting its eco-friendly gas engine Hyundai HiMSEN H35/40GV. The engine runs on liquefied natural gas (LNG) and has a maximum power output of 13,000bhp.
HHI said that the new engine releases 20% less CO2 compared to diesel engines and reduces NOx emissions by 97% to reach NOx emissions of 50ppm. The South Korean firm also claims that engine efficiency is improved by 47%.
---
Image: Hyundai Heavy's SCR system can reduce vessel's NOx emissions by more than 95%. Image: courtesy of Hyundai Heavy Industries.