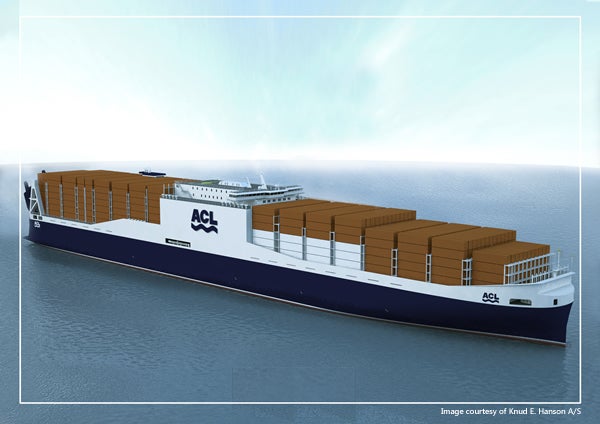 Shanghai-based Hudong-Zhonghua Shipbuilding (HZ) has won a contract from Atlantic Container Line (ACL) to build five RO/RO containerships (CONROs).
ACL said that the fourth generation (G4) CONROs will be double the box capacity of its existing vessels as well as more fuel efficient, and will replace ACL's existing fleet of G3 CONROs operating in its transatlantic service.
Danish naval architect Knud E Hansen has developed the vessels, which will have container capacity for 3,800teu plus 28,900m² of RORO space, with a car capacity of 1307 vehicles.
HZ commissioned Knud E Hansen to adapt the International Maritime Advisors (IMA) CONRO concept to ACL's requirements.
ACL president and CEO Andrew Abbott said: "We will have the equivalent of 6,500teu containerships in terms of earning power and economies of scale, but with far lower costs."
The speed of the new G4 vessels will also be increased by 10%, while fuel consumption per teu will be reduced by 50%.
According to ACL, all five vessels, expected to be delivered in 2015, will continue to employ cell-guides on deck.
Almost all CONRO vessels currently stow containers on deck and lighter RORO cargo underdeck and because of the air space that naturally occurs on RORO decks, most of the weight rides high on a standard CONRO vessel, requiring a great deal of ballast for stability.
IMA developed the concept of putting all the RORO cargo midships and stowing the containers in cells fore and aft of the RORO section, which results in cargo replacing ballast and much more efficient use of vessel space.
---
Image: All five G4 CONROs developed by Knud E Hansen are expected to be delivered in 2015. Photo: Knud E. Hansen