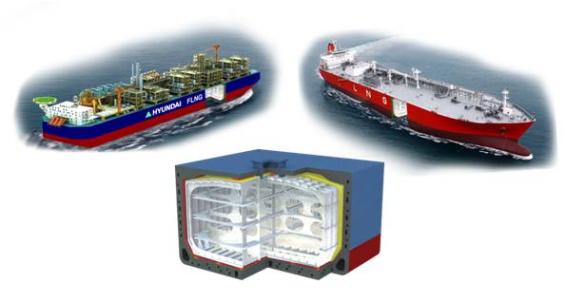 South Korea-based Hyundai Heavy Industries (HHI) has developed an independent liquefied natural gas (LNG) storage tank model called the 'Lobe-Bundle Tank' to be used in LNG vessels.
Japanese classification society Nippon Kaiji Kyokai (NK) approved HHI's newly-developed LNG storage tank in July 2012.
Designed for 165,000m³ LNG carriers, the Lobe-Bundle Tank can also be used in LPG carriers, LNG FPSOs, LNG-fueled vessels, and LNG bunkering systems.
HHI used ring-shaped plates rather than conventional flat plates in the development of the storage tank to reduce the weight of the tank and construction costs.
The company also used spray insulation instead of panel-type insulation to minimise construction time of the storage tank.
HHI said its LNG tank technology meets International Maritime Organization standards for structural analysis for Type B independent LNG storage tanks.
The South Korean ship builder aims to get general approval from Nippon Kaiji Kyokai by 2013 for the construction of pilot LNG storage tanks.
Earlier in November 2012, HHI carried out its first ever full-scale demonstration test of its LNG Fuel Gas Supply (FGSS) and Hyundai Integrated Gas Supply Systems (Hi-GAS) in an ME-GI marine engine, which allows it to use both diesel and LNG.
The Hi-GAS system is intended for use in all types of vessels including LNG carriers, container ships and oil tankers.
---
Image: HHI's Lobe-Bundle Tank can be used in LNG carriers, LPG carriers, LNG FPSOs and LNG bunkering systems. Credit: Hyundai Heavy Industries.