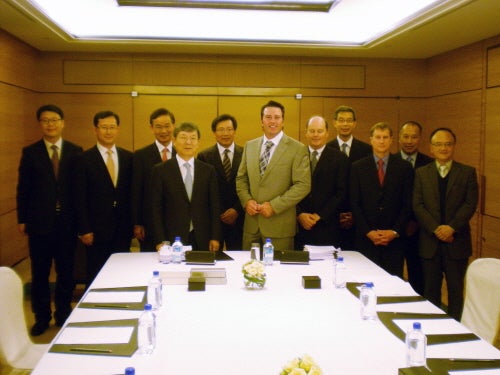 South Korean shipbuilder Hyundai Heavy Industries (HHI) has secured a $600m order from Seaspan to build five ultra-large container ships, including an option to order for five similar box ships.
Each vessel will have a length of 368m, width of 51m, depth of 30m and will be capable of handling 14,000 teu of cargo.
The ships are scheduled to be delivered from 2015; after delivery the ships will be chartered to Taiwan's Yang Ming Marine Transport Corporation under a long-term contract.
Each of the ultra-large container vessels will be equipped with an electronically-controlled main engine that will help increase fuel efficiency and reduce noise, vibrations, and carbon emissions by automatically controlling fuel consumption to suit sailing speed and sea conditions.
The vessels will also feature HHI's HiBallast seawater treatment system to treat 8,000m³ of seawater per hour by filtering and sterilising bacteria and plankton bigger than 50 µm using electrolysis.
HHI has set an annual new orders target of $29.7bn for 2013, an increase of 52.3% compared to 2012.
The company also intends to boost sales by 7.1% to $25.4bn in 2013.
According to the South Korean shipbuilder, the recent order from Seaspan meant it had secured all ultra-large containerships with capacity of at least 10,000teu ordered worldwide over the past year.
---
Image: HHI president and CEO Lee Jai-seong, Seaspan co-chairman and CEO Gerry Wang and Seaspan co-chairman Kyle Washington at the signing of the contract. Photo: Hyundai Heavy Industries.