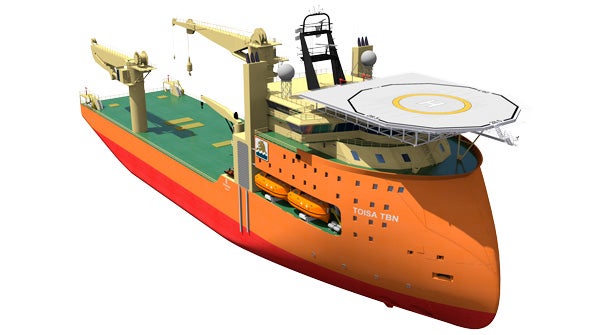 South Korea's Hyundai Heavy Industries (HHI) has won a contract from Toisa to build a multipurpose offshore construction vessel (MOCV) designed by Ulstein.
Based on a customised version of the Deepwater Enabler design from Ulstein Sea of Solutions, the DP 3 vessel is reportedly the first with the X-BOW hull line to be built in South Korea.
The MOCV will have a length of 150m, breadth of 32m, depth of 13.3m and will be capable of accommodating 250 people.
The vessel is suitable for operations in the oil and gas sector, ultra deepwater installation and construction, flexible lay, pipelay, cable lay and topside construction support.
The vessel will be equipped with an active heave compensated (AHC) offshore crane with the capacity to lift 900t at a 360-degree radius with a depth capacity of 3,500m.
The ship will also feature a 200t SWL knuckleboom offshore crane with a 2,000m depth capacity, as well as a 550t flex lay tower placed over the main moon pool. Two carousel spaces, each with 2,500t capacity, will be mounted below deck.
The vessel will be equipped with three stern azimuth thrusters powered by six main diesel-electric generators.
The machinery, power and control systems are separated across the vessel in full compliance with the requirements for IMO Equipment Class 3 DP.
Approximately 2,900m² of the vessel's deck area is designed for the installation of project equipment such as pipelay spreads and for the carriage and deployment of heavy offshore equipment.
---
Image: Toisa's 150m long MOCV, based on the Ulstein Deepwater Enabler design, will be suitable for subsea construction, offshore construction and maintenance operations. Credit: Ulstein Group.