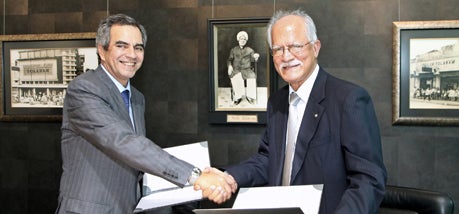 Philippines-based port operator International Container Terminal Services (ICTSI) has signed a sub-concession agreement with Lekki Port LFTZ Enterprises (LPLE) to develop and run the Lekki international container terminal in Nigeria for 21 years.
The container terminal, development of which is being led by the Tolaram Group, is expected to be the largest terminal in sub-Saharan Africa once operational in 2016, with a 1,200m quay and an annual capacity of 2.5 million teus.
Under the deal, ICTSI will invest $225m in cargo handling equipment and related IT infrastructure as part of the $1.4bn investment for the entire port development.
The terminal will be equipped with 14 post-panamax cranes and will have a draft to handle 10,000teu vessels.
Tolaram Group chairman Mohan Vaswani said the company expects that demand at the facility will go beyond the expected 2.5 million teu.
"We are designing the port to allow for expansion to serve that excess demand in a short span of time upon completion," Vaswani said.
ICTSI Africa senior vice president Jens Floe said that Lekki port is designed to cope with the current demand in the market as well as to fulfill future needs and expectations of customers.
"The growing requirement for increased operational and infrastructural efficiencies is a crucial factor for any company following through a growth strategy in the region," Floe said.
ICTSI currently operates in Madagascar, making Nigeria its second market in the region. The company is involved in the operations and development of 24 marine terminals and port projects in 17 countries.
In April 2011, a master concession was signed between the Nigerian Ports Authority and Lekki Port LFTZ Enterprise to build the terminal over 90 hectares of land about 65km east of Lagos.
Development and layout of the terminal takes into consideration factors like the natural port area, equatorial climate and environmental conditions, as well as the types of cargo and projected vessel volumes to be handled.
---
Image: ICTSI chairman Enrique Razon Jr and Tolaram Group chairman Mohan Vaswani sign the sub-concession agreement. Photo: LPLE