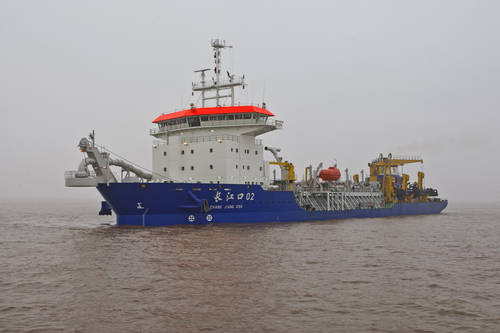 Netherlands-based IHC Merwede has delivered a 12,000m³ trailing suction hopper dredger vessel, Chang Jiang Kou 02, to the Yangtze Estuary Waterway Administration Bureau (YEWAB) in Shanghai.
The initial contract with YEWAB covered the design, construction and delivery of two similar vessels; the first vessel, Chang Jiang Kou 01, was delivered in May 2012.
Both vessel have a length of 132m, breadth of 27.3m, depth of 10m, dredging depth of 25m, and are capable of operating at a speed of 15 knots with capacity to accommodate 37 people.
Chang Jiang Kou 02 was built in collaboration with IHC Merwede's Chinese partner's yard, and both vessels have been designed according to the high-current velocity and soil properties of the Yangtze River.
The vessels also feature the IHC Merwede Wild Dragon draghead; to date the first vessel has carried out maintenance dredging jobs over a distance of 122km.
IHC Merwede managing director of IHC Global Production Fer Tummers said this is the first time the company has carried out the construction of such a large and complex vessel in China.
"In addition, the project has been completed successfully and on schedule, and the feedback from the customer has been extremely positive," Tummers said. "This is a credit to the overall performance and cooperation of the international team involved, spread over different geographical locations and time zones."
---
Image: The 132m-long Chang Jiang Kou 02 has a dredging depth of 25m and is capable of operating at a speed of 15 knots. Photo: IHC Merwede.