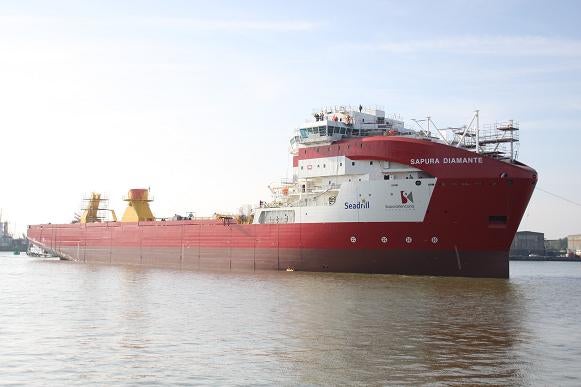 IHC Merwede, a Netherlands-based ship design and construction firm, has unveiled a new pipelaying vessel, Sapura Diamante, at the Krimpen aan den IJssel shipyard in the Netherlands.
The ship was named by Petrobras E&P Service executive manager Christian Lucia Duarte Pinho.
The vessel was ordered by Sapura Navegação Marítima, a joint venture between SapuraKencana and Seadrill.
Weighing 550t, the vessel is the first of five vessels to be designed and built by IHC Merwede.
The Sapura Diamante will be used to develop deep-sea oilfields of up to 2,500m in Brazilian waters on behalf of Petrobras.
The vessel will feature a pipelaying spread, two storage carousels below the deck with storage capacities of 2,500t and 1,500t, respectively, and a vertical lay system with 550t tension capacity that can deploy flexible products with a diameter of 100-630mm.
The pipelaying spread is being designed by IHC Engineering Business and is being built at IHC Merwede's facility in Sliedrecht, The Netherlands.
The integrated automation system, the full electrical installation and the complete electrical machinery package on the vessel was offered by IHC Drives & Automation.
IHC Merwede offshore division managing director Arjan Klijnsoon said the launch of the first of five vessels that they are building for Sapura Navegação Marítima is a milestone in the company's history.
"Once again, we have proved to be a reliable partner for such complex projects, with the build of all of the equipment and the vessel itself on schedule," Klijnsoon said.
Klijnsoon added that the construction of the second vessel in the series, the Sapura Topazio, is underway.
SapuraKencana project manager Mark Allpress said Sapura is pleased to be working with IHC Merwede on the build of this series of sophisticated flexible pipelaying vessels.
"IHC Merwede has shown that it can bring together all of the expertise and equipment from its internal companies in The Netherlands and UK, as well as the many local subcontractors, to build high-quality vessels in accordance with the contract schedule," Allpress said.
---
Image: Sapura Diamante is the first of five vessels being built by IHC Merwede. Credit: IHC Merwede B.V.