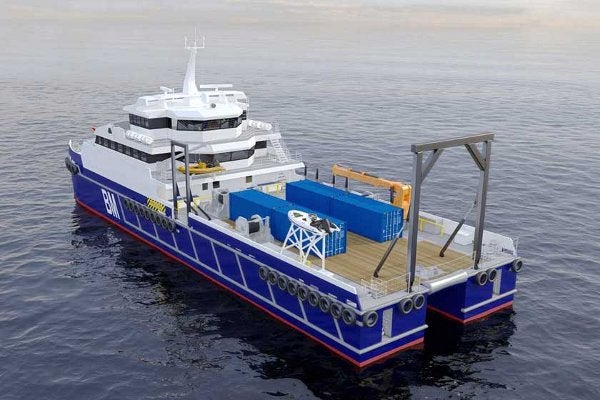 Incat Crowther has won a contract to design a 56m Catamaran dive support vessel (DSV) for Bhagwan Marine, to be operated by Neptune Marine Services.
The vessel will be equipped with a flexible, high-redundancy propulsion system resulting in an advanced propulsion and powering package that will incorporate a pair of Schottel STP 550 azimuth drives.
The vessel will be designed to carry out operations such as dive support, geophysical surveys, geotechnical surveys, cargo transport, hyperbaric rescue and safety standby.
The new Catamaran DSV will also be equipped with four generator sets made up of two Cummins QSK38-M's and two QSK19-M's, which will be used by an advanced power management system and a battery bank to ensure that each power source is used in the most effective way.
Cummins QSK-38-M generator sets are also directly mated to fire pumps that drive full immersion fire monitors, while a separate pump will power a complete deluge system.
The vessel will have a top speed of 13.5 knots and to give it DPS-2 manoeuvrability, the Schottel drives will be coupled with two drop-down azimuthing bow thrusters and a Kongsberg control system.
A HIPAP 501 acoustic positioning system provides further positioning capability and enables the vessel to maintain station relative to undersea reference points.
Additionally, the DSV will be equipped with a 100t, four-point mooring system that features four deck winches and diagonally-oriented fairleads on all four corners.
Unlike any other vessel of its size and type, the new vessel will have all dive equipment designed and installed from the outset.
A pair of diver launch and recovery systems is to be fitted to the starboard side of the vessel, while a separate launch and recovery system will be equipped to port for ROV operations.
The company said that the new DSV will also have the capacity to launch, retrieve and store a hyperbaric lifeboat.
---
Image: The new 56m Catamaran DSV will be used for dive support, geophysical survey, geotechnical survey, cargo transport, hyperbaric rescue and safety standby Photo: Incat Crowther.