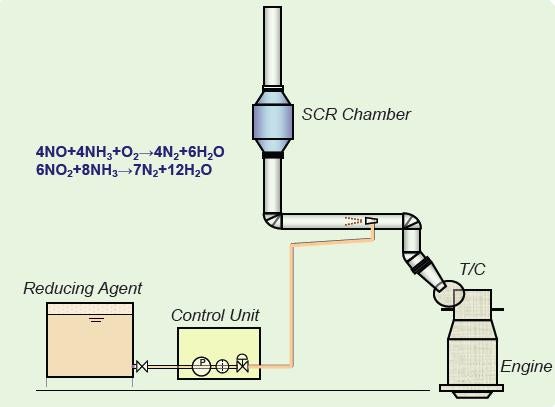 Kawasaki Kisen Kaisha (K Line), Japan Marine United and Daihatsu Diesel have begun testing of a selective catalytic reduction (SCR) system for the diesel generator on a new 8,600teu container ship.
The test is being conducted to assess whether the vessel meets the NOx Tier III regulations in MARPOL Annex VI, which is due to come into effect from 1 January 2016.
Compared to the Tier I regulations, the Tier III regulation stipulates that NOx emissions from ships be brought down in emission control areas (ECAs) by over 80%.
SCR systems have been installed on small coastal ships in northern Europe and used at land-based plants.
The company said the system is being equipped on a larger vessel for the first time by conducting actual onboard tests to asses the efficacy of the system.
The onboard test is being conducted on an 8,600teu container ship, Hanoi Bridge, which is scheduled to be delivered on 26 March 2013 and K Line has confirmed that the system has met the appropriate specifications during sea trials.
Tests will be conducted again a year and a half after the delivery of the vessel to measure the effect of the SCR system and to identify any problems.
The ship has been built by Shipyard Japan Marine United and is equipped with a 3,000kwm engine manufactured by Daihatsu.
---
Image: The SCR system is being trialled on a new 8,600teu container ship, Hanoi Bridge, which is due for delivery on 26 March 2013. Photo: Kawasaki Kisen Kaisha.