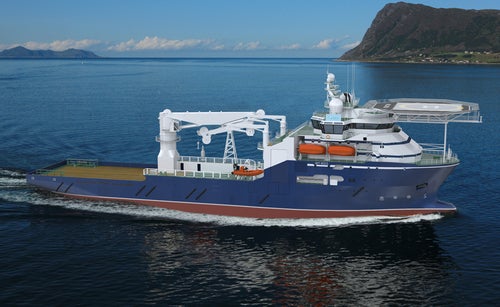 Norway-based Kleven Maritime has won a NOK600m ($105m) contract from REM Offshore to build a large and advanced construction vessel.
Kleven yard in Ulsteinvik, Norway, will build the vessel, which will have a length of 108m,a width of 22m and capacity for 110 people.
The vessel, which will be built to the MT6022 design from Marin Teknikk in Tjørvåg, will be one of the largest offshore vessels built by Kleven.
Scheduled to be delivered in the first quarter of 2014, the vessel will be equipped with an offshore crane capable of lifting 250 tonnes at a 3,000m water depth, a 7.2m² moonpool and three remotely operated underwater vehicles (ROVs), of which two will be used for work and one for observation.
The vessel is designed in accordance with the SPS regulations applicable to ships of its kind and will meet the latest requirements for damage stability, allowing the vessel to work in all areas of oil and gas exploration and production.
In April 2012, Kleven Maritime won a NOK550m ($96m) contract from REM Offshore for the construction of an advanced multifunctional subsea support and construction vessel.
The vessel ordered in April will be a sister ship to the REM Forza, which was delivered from the Kleven yard in August 2008.
So far, REM Offshore has taken delivery of 14 vessels from Kleven, with one LNG-powered vessel scheduled to be delivered in January 2013.
Kleven currently has 14 vessels in the order book from various buyers at a value of almost NOK7bn ($1.2bn).
---
Image: REM's new construction vessel, to be built to MT6022 design at the Kleven yard, will be delivered in the first quarter of 2014. Credit: Kleven Maritime.