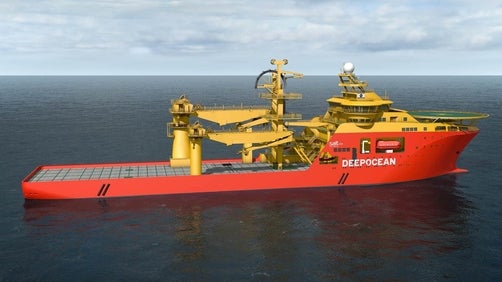 Kleven, a family-owned shipbuilding company, has signed a contract worth NOK1.4bn ($236.9m) with Østensjø Rederi of Haugesund, Norway, for the construction of a large offshore construction vessel.
The vessel, which is scheduled for delivery in March 2016, will be chartered to the offshore contractor DeepOcean on a 5.5-year contract.
Additionally, the charterer has four annual options for extension of the contract.
The 149.8m long and 27m wide vessel of SALT 304 OCV design is designed by Salt Ship Design and has a total deck space of 2,300m².
Designed for the Greater North Sea market, the vessel is equipped with advanced tools such as a 70t crane, a 150t dual tensioner vertical lay system (VLS) in the moon pool, a 3,000t carousel below deck, and a 400t active heave compensated (AHC) knuckle boom main crane that can lift 600t in double fall mode.
The ship will feature a new diesel electric hybrid propulsion system, Siemens BlueDrive+C, which is part of Østensjø Rederi's environmental concept, Mindset.
The system, which is Siemens in cooperation with Østensjø Rederi, uses variable rotational speed with optimal operation of the diesel generator in combination with batteries to significantly reduce fuel consumption and the emissions of nitrogen oxides (NOx) and greenhouse gasses (CO2/methane).
The vessel can accommodate 33 crew including four trainees and will have total accommodation capacity of 140 people.
Østensjø Rederi CEO Johan Rokstad said the contracts with DeepOcean and Kleven are the largest entered into by Østensjø Rederi ever and the company is 'very pleased' to be able to develop the project within the Norwegian offshore cluster.
"It shows that the competence and competitiveness of the operators, owners, yards and designers in the cluster is world class. DeepOcean has been a highly valued client for Østensjø Rederi for 14 years, and we are very happy to see the relationship continue and develop. The trust given to us in this contract is a mark of respect to all our hard working and competent personnel," Rokstad added.
DeepOcean will use the new vessel in its service offerings in the Subsea Umbilicals Risers & Flowlines (SURF) segment in the Greater North Sea area.
Kleven has 13 vessels on order that are worth around NOK7.9bn ($1.33bn).
---
Image: Kleven will build an offshore construction vessel in collaboration with Salt Ship Design and DeepOcean. Credit: Østensjø Rederi.