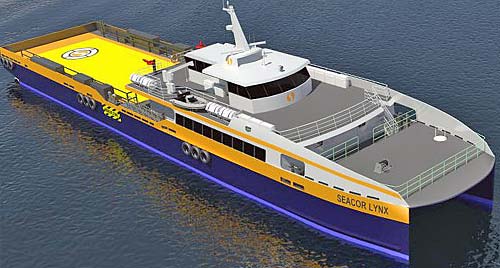 US-based offshore marine support vessel operator SEACOR Marine has selected Kongsberg Maritime to supply dynamic positioning (DP) systems for a pair of new 190ft CrewZer class crew boats.
SEACOR Lynx and SEACOR Leopard are being built at the Gulfcraft Shipyard in Franklin, Louisiana, US.
The two boats, which will be the first crew boats to operate using an ABS Class DP3 system, are scheduled to be delivered in the first half of next year.
According to the company, ABS Class DP3 will allow improved operational safety, including full system protection in case of fire and flooding.
SEACOR Marine project manager Joe McCall said DP offers significant station keeping improvements compared to manual control.
"In order for a DP system to be effective, it has to be completely reliable in even the most extreme weather conditions, so we are enthusiastic about the installation of Kongsberg DP3 aboard our new CrewZer class vessels," McCall said.
"The system is designed to offer the highest redundancy and reliability, which allows for safer transfers of cargo and personnel."
Under the deal, Kongsberg Maritime will install a triple redundant KONGSBERG K-Pos DP3 system integrated with proprietary position reference and environmental sensor systems in DP system technology on the new vessels.
CrewZer Crew boats will be equipped with a twin-hull design that enables speeds of 46 knots, which is more than twice that of conventional Crew boats.
It will also feature a safety focused design based on utilising the most advanced technology available, such as a new 'FROG' personnel transfer system and the latest DP3 system from Kongsberg Maritime.
According to the company, the DP3 rating of the two boats, combined with a stable work deck, increases conventional operating windows even further than the previous generation CrewZer class vessels.
The DP3 rating will also allow the vessel to hold station in weather conditions where other vessels simply could not work.
---
Image: SEACOR Lynx and SEACOR Leopard being built at Gulfcraft Shipyard are scheduled to be delivered in the first half of next year. Photo: Kongsberg