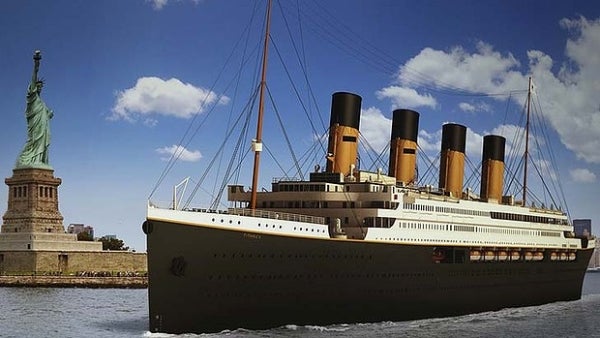 Lloyd's Register has secured a contract from Blue Star Line to review the design and safety features for the Titanic II project.
Titanic II is expected to be launched from its construction base in China in 2016, before starting its maiden passenger voyage, retracing the Titanic's original journey from Southampton, UK to New York, US.
Blue Star Line chairman Clive Palmer said that the appointment of Lloyd's Register further strengthens the team assembled to deliver Titanic II in 2016.
"Blue Star Line has engaged Lloyd's Register to review key design drawings, calculations and studies for Titanic II against relevant rules and regulation," Palmer said. "This will include class rules and Safety of Life at Sea (SOLAS) aspects which relate to the structure, stability and safety of Titanic II."
Lloyd's Register's UK passenger ship support centre lead specialist Paul Nichols said: "Working with Blue Star Line and Titanic II's designers Deltamarin, Lloyd's Register will help ensure the vessel will be compliant with all the current statutory and classification regulations."
Claimed to be as luxurious as the original Titanic, Titanic II will feature modern technology and the latest navigation and safety systems. The vessel is to weigh 55,800t, measure 883ft in length and feature 840 rooms on nine decks.
The design will be similar to the original and built with assistance from a historical research team. It will feature baths, a gymnasium, a squash court, swimming pool, theatre and casino. It will be able to carry around 2,435 passengers and 900 crew members.
Although Titanic II features four smoke stacks similar to the coal-powered Titanic, it will be powered by diesel engines. The stacks will be for decorative purposes only on the new vessel.
The ship will be welded rather than featuring rivets. It also features a bulbous bow for fuel efficiency and a large rudder and bow thrusters for a smooth journey.
---
Image: Titanic II is scheduled to make its maiden voyage in late 2016, following the route of the original Titanic. Image: Blue Star Line.