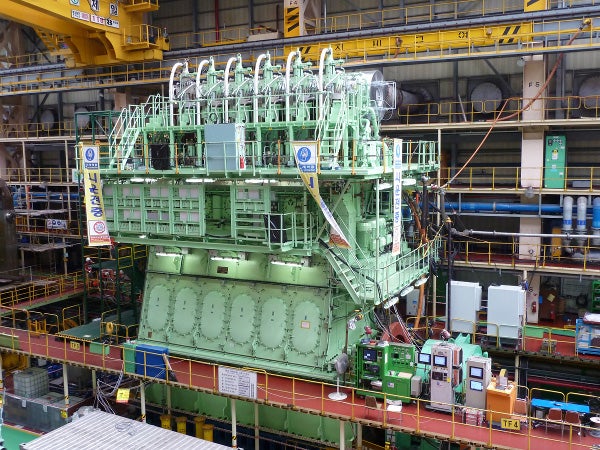 MAN Diesel & Turbo, along with HHI-EMD, the engine and machinery division of Hyundai Heavy Industries, has developed the first IMO Tier III-compliant diesel engine using exhaust gas recirculation (EGR).
The new MAN B&W 6S80ME-C9 engine, with integrated EGR, will meet the IMO Tier III NOx regulations that will be introduced in emission control areas (ECAs) from 2016.
HHI-EMD, Alfa Laval, Siemens, GEA and Vestas Aircoil helped MAN with the design, production and assembly of the EGR system.
MAN Diesel & Turbo vice president and head of research & development Søren Jensen said that testing achieved a low penalty, equivalent to 1-3g/kWh, which was better than the company's expectations.
"As a promising spin-off benefit, the engine can also run in a fuel-optimised Tier II mode that facilitates an approximate 4g/kWh fuel-oil consumption reduction at part-load," Jensen said.
Compared to high efficiency Tier II engines, the engine integrated EGR system will be more efficient during transoceanic operation.
MAN said that the result was achieved through a combination of sequential turbocharging, turbocharger cut-out and low EGR rates.
The new engine will be installed in a Maersk Line C-class container vessel currently being built at South Korea's HHI shipyard.
Upon delivery, scheduled for the first quarter of 2013, the vessel will be operated between South East Asia and West Africa.
The A.P. Moller – Maersk Group and MAN have agreed to operate the engines 20% of the time in Tier III mode, otherwise favouring the fuel-optimised Tier II mode with low EGR rate.
MAN will monitor the engine's performance over the next three years to gain service experience and increase the EGR system's reliability for future engines.
---
Image Source: The new MAN B&W 6S80ME-C9 engine with integrated EGR will be installed on a Maersk Line C-class container vessel being built at HHI's South Korean shipyard. Photo: MAN Diesel & Turbo.