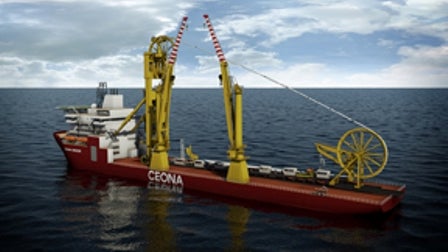 Germany-based MAN Diesel & Turbo will supply the main gensets for a new multi-layer vessel being built by Lloyd Werft Bremerhaven for UK client Ceona.
MAN will equip two 9L32/44CR and four 8L32/44CR main gensets on Ceona Amazon, providing a total output of 28MW.
The company will build the engines at its Augsburg production facility in southern Germany, with its Frederikshavn, Denmark plant scheduled to carry out electrical testing before the gensets are delivered to the Lloyd Werft shipyard.
The Ceona Amazon includes enhanced sea-keeping features for operations in remote and challenging locations.
The construction vessel, based a drillship design, has a large under-deck storage capacity suitable for line pipe, umbilicals and flexible installation reels.
The vessel is equipped with two heave-compensated masthead cranes, and a single heave-compensated knuckleboom crane.
The pipelay system includes an inclined lay system and a rigid pipeline firing-line system.
The vessel will be able to place rigid pipelines, flexible pipelines and umbilicals, as well as install large and subsea structures by using one or both of its cranes in tandem-lift mode to 3,000m depth.
Ceona is currently developing its position as a specialist offshore contractor in the engineering, procurement, construction and installation markets.
Lloyd Werft Bremerhaven is a shipyard at Bremerhaven in northern Germany, focusing on the repair, conversion and extension of large ships and newbuildings.
---
Image: MAN Diesel & Turbo will supply the main gensets for the newbuilding vessel Ceona Amazon. Credit: courtesy of MAN Diesel & Turbo.