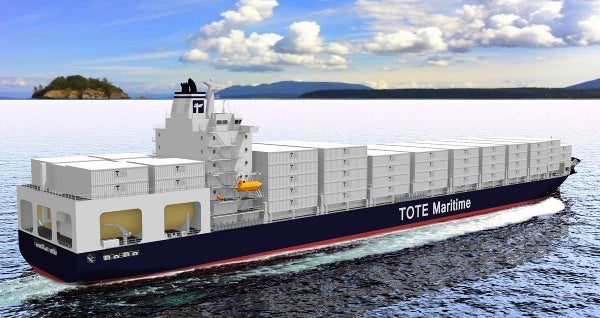 MAN Diesel & Turbo has secured the first order for its low-speed, dual-fuel ME-GI engine to be equipped on two 3,100 teu liquefied natural gas (LNG) powered containerships.
Under the deal, Man will equip 8L70ME-GI dual-fuel gas-powered engines on each of the two vessels that are to be designed and built by General Dynamics Nassco for US shipping firm Tote.
The contract between Nassco and Tote includes options for three additional ships.
Nassco shipyard in San Diego, US, will build the vessels, while the design based on containership design standards will be provided by DSEC, a subsidiary of Daewoo Shipbuilding & Marine Engineering (DSME).
According to MAN, the new vessels will be equipped with ME-GI engines that will have no methane slip and will emit less CO2, NOx and SOx particulates, making them more environmentally friendly.
The ME-GI engine offers the option of using either heavy fuel oil (HFO) or gas as fuel.
The double-hulled vessels will also be fitted with a ballast water treatment system.
General Dynamics Nassco president Fred Harris said: "This project breaks new ground in green ship technology."
Construction of the first vessel is scheduled to start in 2014, with scheduled delivery in the fourth quarter of 2015, while the second ship is expected to be delivered in 2016.
Following delivery, the 764ft vessels will be operated between Jacksonville in Florida and San Juan in Puerto Rico.
---
Image: Tote's two new vessels, equipped with ME-GI engines, will be delivered in 2015 and 2016. Photo: MAN Diesel & Turbo.