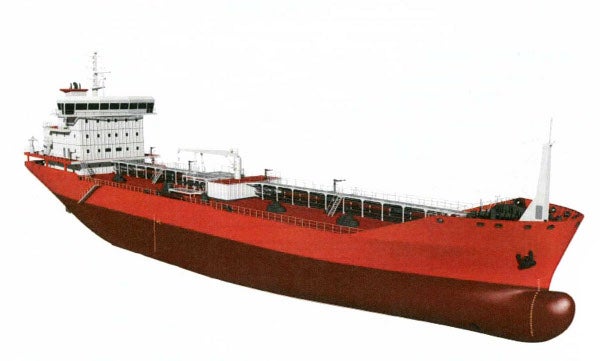 MAN Diesel & Turbo has received an order from Spain's Empresa Naviera Elcano to deliver two medium-speed MAN L27/38 engines as part of a propulsion package to power its new 7,000dwt vessel.
Built at the company's Frederikshavn facility in Denmark, the 6-cylinder main engines each will deliver 2,040 kW at 800 rpm, and will be fitted to the new asphalt and oil-products tanker to be built at Sedef Shipyard in Turkey.
Two medium-speed MAN L27/38 engines will form the core of the propulsion package that includes an Alphatronic 2000 propulsion control system, a MAN Alpha VBS Mk 5 CP propeller, and a double-reduction gearbox with multiple PTO clutches operating at 1,200kW at 1200 rpm.
MAN said that the L27/38 engine is characterised by its heavy-duty propulsion and manoeuvring performance, operating efficiently over the entire load range, with fast load response and quick acceleration.
According to the company, the engine will be smokeless at idling, part-load and full-load, is optimised for high-torque layout, and emits low levels of NOx while minimising fuel oil consumption.
The Elcano vessel will have a length of 110m length, breadth of 10.6m and design draught of 6.9m, and its speed will be 14 knots at 80% MCR.
Spain-based Elcano is engaged in the shipping of bulk products, which include both solids, such as coal, ores and grain, and liquids such as LNG, LPG, oil, oil products and chemical products.
Elcano including its subsidiaries is the parent company of an international shipping firm that manages its own fleet of 27 vessels, which have a total tonnage of over 2.2 million dwt and include LNG vessels, oil and chemical/product tankers, LPG ships and bulk carriers.
Sedef Shipyard is part of the Turkon Holding and is located on the Bay of Tuzla, near Istanbul, Turkey, it builds various types of ships for both naval and commercial clients in Germany and the Netherlands.
Image: Elcano vessel will have a length of 110m length, breadth of 10.6m and design draught of 6.9m.