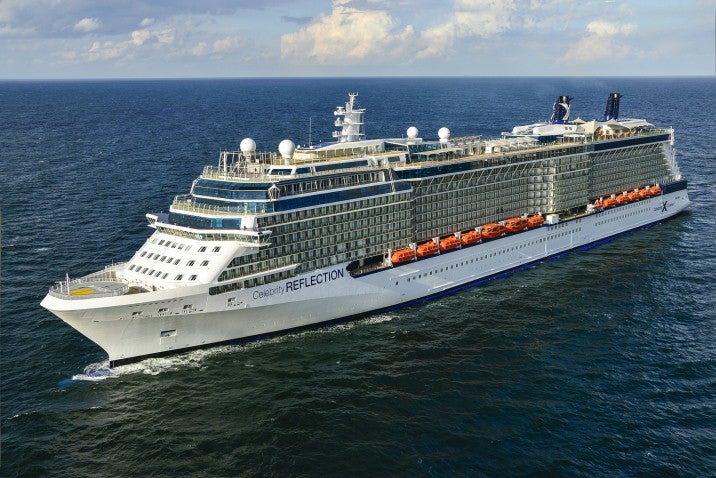 German shipbuilder MEYER WERFT has delivered the 126,000gt cruise ship 'Celebrity Reflection' to US-based Celebrity Cruises in the Dutch port of Eemshaven.
The vessel is the fifth and last in the Solstice Class fleet of cruise ships built by the German shipyard for Celebrity Cruises.
Celebrity Reflection has a length of 319m, width of 37.4m and is capable of carrying 3,046 passengers and a crew of 1,271.
Celebrity Reflection has 16 decks rather than 15, which increases the number of cabins by 72.
The vessel is equipped with diesel-electric azimuth pods and four MAN engines including two 14V and two 12V CR units of 16,800kW and 14,400kW respectively.
The cruise ship generates a power output of 62,400kW and propulsive power of 35,000kW, allowing it to achieve a cruise speed of 24 knots.
Celebrity Reflection reduces energy demand with photovoltaic solar power generation, heat-saving installations, an efficient underwater hull coating and an energy-saving lighting system using LEDs, according to MEYER WERFT .
The first three cruise ships in the series – Solstice, Equinox and Eclipse – are each equipped with four Wärtsilä 16V46 Diesels and two ABB Azipods, while the fourth, Silhoette, is powered by four MAN 14V48/60CR Diesels and two ABB Azipods, according to The Motorship.
The German shipyard delivered Solstice in October 2008, Equinox in July 2009, Eclipse in April 2010 and Silhouette in July 2011.
---
Image: Celebrity Reflection marks the fifth and last in the series of Solstice Class cruise ships built for Celebrity Cruises by MEYER WERFT . Photo: courtesy of MEYER WERFT .