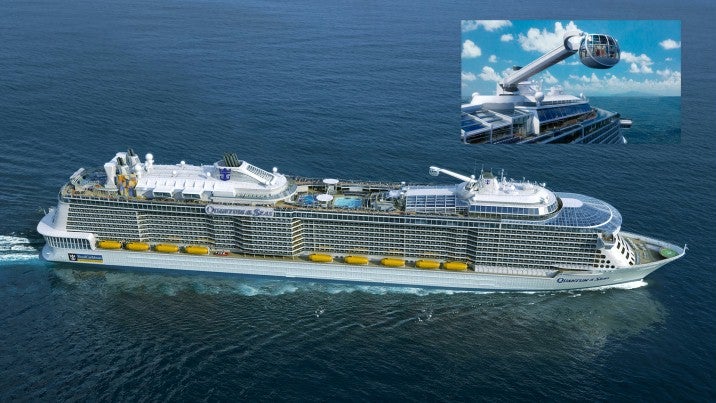 German shipbuilder Meyer Werft has secured a contract from Royal Caribbean Cruises (RCL) to build a third Quantum-class cruise ship.
The new cruise ship, scheduled to be delivered in mid-2016, will be similar to the first two Quantum-class ships and cost $926m.
The first Quantum-class ship, Quantum of the Seas, is currently under construction at Meyer Werft's Papenburg shipyard in Germany and is scheduled to be delivered in November 2014, while the second cruise vessel, Anthem of the Seas, is expected in 2015.
The Quantum-class ships will have a length of 348m, width of 136m, depth of 8.5m and will have a gross tonnage capacity of 167,800t.
Each of the vessels will feature 16 decks and will be able to carry up to 4,180 people with double occupancy of their 2,090 staterooms.
The vessels will feature a giant mechanical arm to take passengers more than 300ft high above the vessels in glass capsules.
Royal Caribbean CEO Adam Goldstein said: "The Quantum class will offer vacationers more unexpected activities in the most extraordinary spaces, and a third ship will offer even more opportunities for vacationers to experience Quantum cruising."
Including the recent contract, Royal Caribbean's projected capital expenditure has reached $700m in 2013, $1.2bn in 2014, $1.2bn in 2015 and $2.1bn in 2016.
Royal Caribbean expects to expand its capacity by about 4% annually between 2012 and 2017.
STX France won a $1.3bn order from Royal Caribbean in December 2012 to build a third Oasis-class cruise vessel.
---
Image: Meyer Werft expects to deliver RCL's third Quantum-class cruise ship, which will be similar to Quantum of the Seas, in mid-2016. Photo: Royal Caribbean.