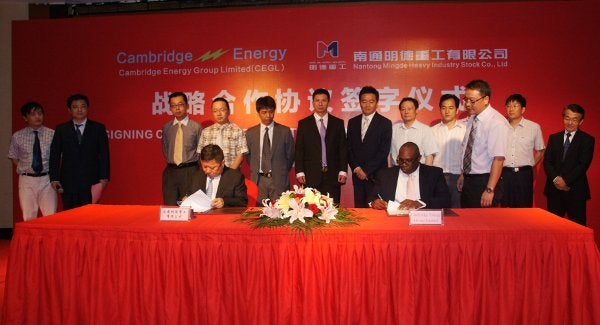 Mingde Heavy Industries has signed an agreement with Cambridge Energy Group to jointly develop liquefied natural gas (LNG) vessels.
Under the deal, both companies initially plan to build up to five 140,000m³ LNG carriers with options for four more.
The plan also includes construction of between 10 and 12 20,000m³ to 40,000m³ LNG carriers, as well as a pair of large FLNG carriers with an annual capacity of two million tonnes each.
Mingde will be entering into the LNG carrier market following the development of PCTC, stainless steel chemical tankers and offshore platform supply vessels (OSVs).
LNG carriers are currently built in only 13 shipyards across the US, China, Japan, Korea and Europe, according to Mingde.
Mingde chairman Ji Fenghua said that for the LNG carriers project, the company has recruited experts on LNG carriers in China and has created a research and development team.
"We will carry out extensive cooperation with Cambridge Energy in technical areas and trust that we could benefit a lot in core technology for LNG carriers," Fenghua said.
US-based Cambridge Energy Group is developing and using energy for LNG carriers, and is involved in several LNG-related project developments relating to the production, transmission, distribution and supply of LNG.
The company mainly aims to export LNG from the US to small and mid-sized power generation markets whose power requirement is less than 300MW.
---
Image: Mingde and Cambridge Energy will jointly develop and build five 140,000cbm LNG carriers, along with up to 12 20,000-cbm to 40,000-cbm LNG carriers. Photo: Mingde Heavy Industries