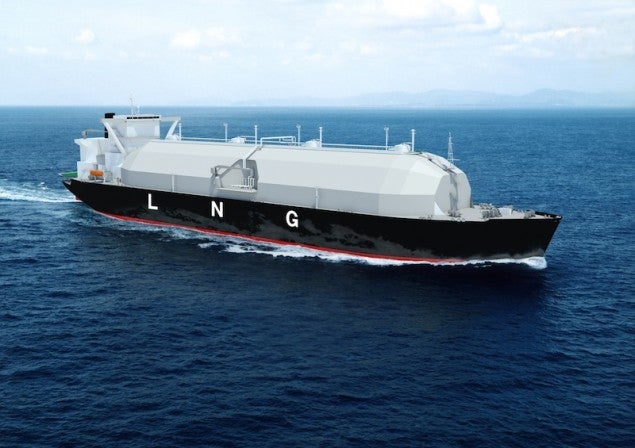 Mitsubishi Heavy Industries (MHI) and Imabari Shipbuilding have agreed to set up a new joint venture (JV) company to manage the design and marketing of liquefied natural gas (LNG) carriers.
The new JV, called MI LNG Company, will be 51% owned by MHI with the remaining 49% stake held by Imabari Shipbuilding.
Both companies expect that the demand for LNG carriers will rise in coming years in step with global demand for LNG.
Operations at the new JV are scheduled to commence on 8 April 2013 and will be headquartered in Minato-ku, Tokyo, Japan.
After receiving its first order, the JV company will prepare the specifications for an LNG carrier, which will be built either at MHI's Nagasaki Shipyard & Machinery Works or at Imabari Shipbuilding.
With the ability to use the shipyards of two companies, the JV is expected to have a shipbuilding capacity of at least eight LNG carriers per year.
According to MHI, by combining its technology development capabilities and Imabari's cost competitiveness, the new JV will have the ability to take orders for multiple LNG carriers, with types ranging from the conventional Moss type LNG carrier to the 'Sayaendo,' a new-generation LNG carrier developed by MHI.
The collaboration between the two Japanese companies is intended to help them take multiple LNG carrier orders and compete against South Korean shipbuilders.
The companies signed a technological collaboration agreement in May 2012 to improve container carrier construction.
The three-year collaboration, which can be further extended, will allow the two Japanese firms to focus on improving various aspects of ship design for energy optimisation and fuel efficiency.
MHI and Imabari also signed an agreement with Imabari in July 2012 to license the production and marketing of deck machinery based on MHI's technology.
---
Image: MI LNG Company will offer LNG carriers, including the 'Sayaendo', a new-generation LNG carrier developed by MHI. Credit: Mitsubishi Heavy Industries.