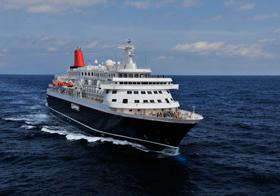 Japan-based Mitsubishi Heavy Industries (MHI) has received orders from Mitsui O.S.K. Passenger Line (MOPAS) and Nippon Charter Cruise (NCC) to carry out repair and conversion works on two cruise vessels.
MHI's Yokohama Dockyard & Machinery Works in Kanagawa Prefecture, Japan, will be responsible for the work, which will be performed on the two vessels Nippon Maru and Fuji Maru, between mid-December 2012 and the end of January 2013.
The repair and conversion work is expected to strengthen MHI's cruise ship repair and conversion business, and is in line with the medium to long-range maintenance plans of MOPAS and NCC to increase ship safety and passenger comfort.
Under the deal, work on the Fuji Maru will be carried out from 14-26 December 2012, while on the Nippon Maru will happen from 15-27 January 2013.
Entered into service in 1989, the 23,235t Fuji Maru has a length of 167m, width of 24m and features 163 cabins.
The 22,472t Nippon Maru went into operation in 1990, has 202 cabins, and is 166.65m long and 24m wide.
Nippon Maru underwent a major conversion at the Yokohama Dockyard in 2010.
Apart from the periodical mandated inspection, work will also be carried out to increase energy savings and passenger service, as well as installation of LED lighting and the upgrading of galley facilities.
Both Nippon Maru and Fuji Maru were built at MHI's Kobe Shipyard & Machinery Works.
---
Image: MHI will carry out repair and conversion work on the two vessels at its Yokohama Dockyard between December 2012 and January 2013. Photo: Mitsubishi Heavy Industries.