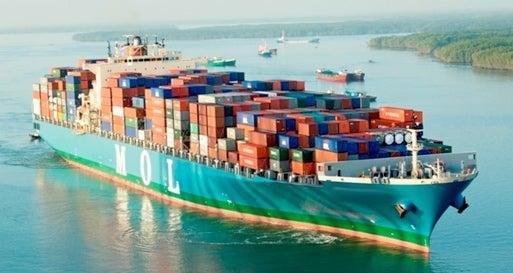 Mitsubishi Heavy Industries (MHI) and Mitsui OSK Lines (MOL) have jointly developed installation technology for a ballast water treatment system (BWTS) to be installed within the cargo hold of container ships.
Nippon Kaiji Kyokai (ClassNK) has approved the container-type BWTS design, which is claimed to reduce retrofit time compared to the normal engine-room BWTS installation.
The system, along with electrical equipment, is packaged in a 40ft high-cube container that has a length of 12m, width of 2.4m and height of 2.9m.
The devices are arranged to increase available space and facilitate easy maintenance and accessibility for the container.
According to MHI, during the system installation preliminary inspection is shortened because the only major work needed is ballast water intake/discharge and power line connection.
The installation time of the container-type BWTS is reduced by about seven days; it does not require the cutting of the ship's side shell and can be completed at a pier, eliminating the need to drydock.
The system is intended to be ideal for vessels with limited engine room space for related systems and piping.
Both MOL and MHI have started detailed engineering work on an experimental system with a capacity of 750m³/h , which will be installed on the 8,100teu MOL Competence in the second quarter of 2013 to verify the new system's effectiveness.
The MOL Competence was built by MHI at its Nagasaki Shipyard and Machinery Works and delivered to MOL in 2008.
Ballast water treatment systems are used to control the levels of marine microorganisms and other harmful materials in ship ballast water.
---
Image: The container-type BWTS design will be installed on the 8,100teu MOL Competence in the second quarter of 2013. Photo: Mitsui OSK Lines.