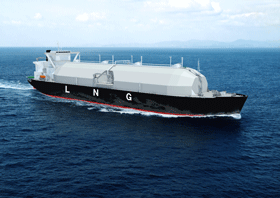 Japanese shipbuilder Mitsubishi Heavy Industries (MHI) has signed an agreement with Mitsui OSK Lines (MOL) to build a 'Sayaendo' series new-generation liquefied natural gas (LNG) carrier.
Construction of the new vessel will be carried out at the company's Nagasaki Shipyard & Machinery Works.
The 75,000dwt LNG carrier will have a length of 288m, a width of 48.94m, draft of 11.55m, and will be capable of carrying up to 155,000m³ of LNG using four Moss-type hemispherical tanks at a service speed of 19.5 knots per hour.
In the Sayaendo series Moss-type LNG carriers, the upper half of the tank will be covered by a hemispherical dome, while the lower half under the deck is supported by a cylindrical skirt structure, which is intended to reduce fuel consumption and improve maintenance.
The integrated hemispherical cover will help in reducing size and weight while providing maintenance for the overall hull rigidity of the vessel.
According to the MHI, the cover over the tanks will enhance aerodynamics by reducing wind pressure, which acts as a drag on ship propulsion.
Compared to conventional ships, the Sayaendo series vessels will consume 22% less fuel due to the reduction in size and weight, along with hull line improvement.
MOL has also concluded a contract with Osaka Gas and Kyushu Electric Power for a long-term liquefied natural gas (LNG) transportation.
From 2020, the new vessel will be used to carry LNG produced by the Australia's Ichthys LNG Project for Osaka and Kyushu.
According to MOL, the new vessel is similar to the two LNG carriers being built by MHI that are scheduled to be delivered in 2014 and 2015 to transport LNG to Osaka Gas.
Earlier in April 2013, MHI and Imabari Shipbuilding set up a new joint venture (JV) company called 'MI LNG Company' to manage the design and marketing of LNG carriers.
---
Image: MOL's new Sayaendo series vessel will be used to transport LNG from Ichthys LNG Project for Osaka and Kyushu. Photo: Mitsubishi Heavy Industries.