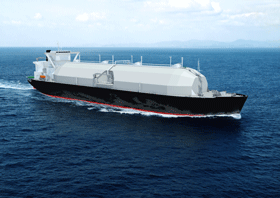 Mitsui OSK Lines (MOL) has placed an order for two new liquefied natural gas (LNG) carriers with Kawasaki Heavy Industries (KHI) and Mitsubishi Heavy Industries (MHI).
Both LNG carriers will be equipped with steam turbine propulsion and independent spherical Moss-type tanks.
The first of the two vessels, which will be built by KHI based on its new design, will be capable of carrying up to 164,700m³ of LNG.
It will be designed to operate in the expanded Panama Canal after it becomes operational in 2014, while it can call at major LNG terminals worldwide maintaining its hull size.
The vessel will have a length of 293m, breadth of 48.90m and draft of 11.92m and is scheduled to be delivered in 2016.
The second vessel will be built on MHI's 'Sayaendo' design with a 155,300m³ cargo tank capacity and a continuous cover over its four Moss-type spherical tanks.
The vessel has a peapod-shaped continuous cover for the Moss spherical tanks integrated with the ship's hull instead of a conventional hemispherical cover, offering the vessel greater structural efficiency.
The cover is integrated with the vessel's hull, achieving weight reduction for increased fuel efficiency, while maintaining overall hull rigidity.
According to MHI, the cover over the tanks will improve aerodynamics by reducing wind pressure, which serves as a drag on ship propulsion.
The shipbuilder said that reduction in size along with weight reduction and hull line improvement will help the vessel cut fuel consumption by 25% compared to conventional ships.
The LNG carrier will have a length of 288m, width of 48.94m and draft of 11.55m with scheduled delivery in 2017.
Upon delivery from KHI and MHI, both vessels will be chartered to Kansai Electric Power and will adopt a new steam turbine engine that reuses steam for heating.
The vessels will also be equipped with an advanced heat insulation system that will provide the lowest LNG vaporisation rate on any LNG carrier of 0.08%.
---
Image: MHI's Sayaendo LNG carrier, ordered by MOL is scheduled to be delivered in 2017. Photo: MHI