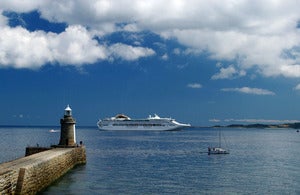 A new EU Regulation for Maritime Passengers came into effect on 18 December 2012 to improve rights to assistance in cases of cancellations and delays in departure.
The regulation, applicable to most cruise and ferry services operating within the EU, extends benefits enjoyed by air and rail passengers to travellers using water transport.
Passengers who are disabled or suffer from reduced mobility are now entitled to the same rights and accessibility assistance while travelling by water, as applicable in the case of other modes of transport.
UK Parliamentary Under-Secretary of State for Transport Stephen Hammond stressed the importance of passengers receiving protection across all modes of transport, enabling them to travel with increased peace of mind throughout the EU.
"Most journeys run smoothly. On the rare occasions when things do go wrong, it is important that passenger complaints are taken seriously and dealt with effectively at the appropriate level," Hammond said.
While the Passenger Shipping Association will act as the voluntary complaint handling body for England and Wales, London TravelWatch will oversee the services in London.
The Consumer Council for Northern Ireland and the Scottish Government have agreed to take up similar roles in the respective areas.
"I am extremely grateful to all the bodies that have agreed to undertake voluntary complaint handling roles. This demonstrates collaborative working between Government and industry at its best," added Hammond.
Passenger Shipping Association director Bill Gibbons said: "Over the past two years we have worked very closely with DFT officials together with our member cruise and ferry companies to achieve a successful implementation."
"We are confident that the industry as a whole will continue to offer customers an excellent service and will deal effectively with any complaints that arise through this new regulation," added Gibbons.
---
Image: The new regulation aims to provide equal protection for the passengers across all modes of transport throughout the EU.Photo: GOV.UK.