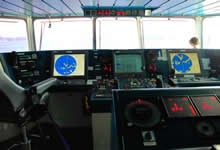 A three-year research project called Co-operative and Adaptive Ship-based Context Aware Design (CASCADe) has been launched to explore ways to enhance safety onboard vessels.
Part-funded by the European Union (EU), CASCADe is expected to address the lack of symbiosis which exists between current bridge design, operational procedures and the end user.
According to estimates, about 80% of collisions and groundings of vessels take place due to a failure of bridge systems and their usage.
Errors and reduction in performance onboard ships can be caused by the use of instruments with a range of different user interfaces or the provision of too much information.
Studies have also found that complex technology has the potential to cause incidents that may result in significant remedial and compensation costs.
As part of the research project, an adaptive bridge system will be developed by CASCADe to identify, prevent and recover from human errors by improving the interaction between crew and machines on the bridge.
The project aims to evolve a new human-centred design methodology to support the analysis of agent interactions at early design development stages.
Under the coordination of the Oldenburg Research and Development Institute for Information Technology Tools and Systems (OFFIS), a group of seven project partners from five EU countries will work together to support the project.
The partners in the project include BMT Group, Raytheon Anschuetz, Mastermind Shipmanagement, the University of Cardiff, Marimatech and Symbio Concepts & Products SPRL.
Maritime Cluster Northern Germany, Nautilus International, NSB Niederelbe Schiffahrtsgesellschaft and the University of Tasmania will also offer support to the project.
---
Image: CASCADe will address the lack of symbiosis that lies between current bridge design, operational procedures and the end user to improve safety onboard vessels. Photo: BMT Group.