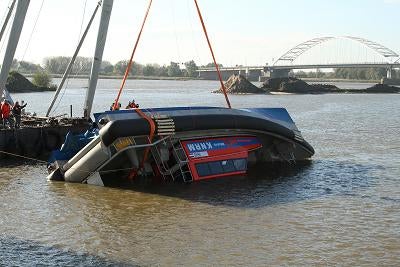 The new rescue vessel, NH1816, commissioned by the Royal Netherlands Sea Rescue Institution, KoninklijkeNederlandse Redding Maatschappij (KNRM), has cleared important capsize trials.
The rescue vessel had to pass the trials conducted by the Damen Shipyards Group in Gorinchem before being entrusted to its crew.
In the capsize trials, which had four different tests, the vessel righted itself to its normal position within seconds of capsizing, a life-saving feature in extreme conditions.
The 19m rescue vessel has all the technical, ergonomic and operational features KNRM asked of the vessel's design and can withstand tough weather conditions.
The vessel was designed with a low point of gravity and the air bubble in the wheelhouse allowed the capsized ship to quickly come back to normal position like a self-righting bath toy.
The engines and equipment on board are designed to continue operating even after the vessel has capsized.
In 2008, KNRM expressed its need for a completely new type of rescue vessel and following a donation from Dutch insurance company 'Noordhollandsche 1816' (NH1816), the planning for the design phase was made possible.
The design of the new vessel could commence in partnership with Damen, the Maritime Technology faculty at Delft University and De Vries Lentsch Naval Architects.
The NH1816 rescue vessel will replace the current Arie Visser-class vessels.
Following the completion of the vessel, KNRM will deploy the SAR NH1816 from IJmuiden, with a permanent captain and an on-call crew.
With 1,100 volunteers and 70 rescue vessels, KNRM rescues people at sea and in large inland waters from 43 rescue stations, which are available for deployment 24 hours a day, 365 days a year, under all weather conditions.
---
Image: The capsize trial of the KNRM's new rescue vessel. Credit: Arie van Dijk.