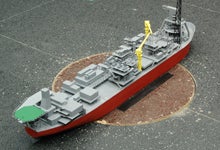 A three-year joint industry project (JIP) has been launched to improve the accuracy of wind tunnel measurements and computational fluid dynamics (CFD) calculations.
The wind load JIP intends to develop a standard set of guidelines to support port operators and designers of large scale offshore floating production systems.
Partners in the project include BMT Fluid Mechanics, MARIN; TU/e, Eindhoven University of Technology; and DNW, the German-Dutch Wind Tunnels.
BMT Fluid Mechanics managing director Volker Buttgereit said traditionally, wind loads or wind flow around large scale offshore marine structures are studied in wind tunnels.
"Successful testing of these requires specialist skills and instrumentation technology that has been continuously developed over years of research and application," Buttgereit said.
"Guidelines and codes of practice for this type of wind tunnel testing exist and they do reflect the experience and advances that have been made in the field."
Buttgereit did note, however, that there is a certain amount of variability between results derived from the various wind tunnel testing laboratories situated in different parts of the world, which are constantly challenged by increasing scale and complexity of engineering structures.
"With continuous advancement of computational speed, there is also a growing interest in the application of CFD which can predict the impact complex wind flows can have on large scale, offshore floating production and help deliver design efficiencies and safety of operations," Buttgereit said.
"Correlating CFD predictions with those derived from model scale wind tunnel testing can be a challenge in its own right and does require further investment in research and development."
Floating production systems and liquid gas carriers continue to grow in size and complexity, which makes it hard for offshore operations with various offshore vessels acting in proximity to each other.
BMT said the potential impact is currently neither well understood, nor well treated through available engineering methodology.
Buttgereit said: "Developing advancement and most importantly, communality in the methodology that combines reliable testing and simulation-based prediction of 3D wind fields and forces acting on large scale offshore vessels and floating production systems is key."
"Such an approach will provide operators and designers of these structures with the opportunity to drive forward these designs with ever increasing reliability and efficiency."
---
Image: The project intends to develop standard guidelines to support port operators and designers of large scale offshore floating production systems. Photo: Courtesy of BMT Group.