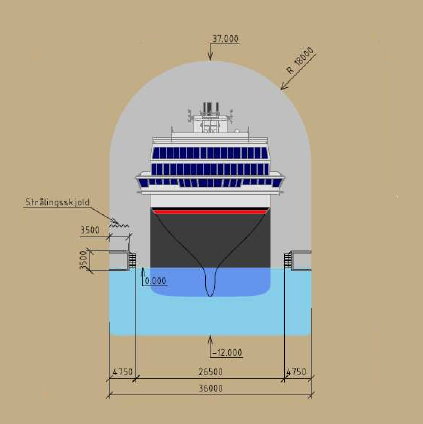 The Norwegian Government has revealed plans for the construction of the world's first ship tunnel through a mountain to help ships navigate a dangerous section of the country's south-western coast.
The government has agreed to provide NOK1.6bn ($274m) for the Stad Ship Tunnel, which will be built to a height of 45m, width of 36m and will span a length of 1.7km.
The proposed tunnel, which is being planned by Nordfjord Vekst, would bypass the Stadlandet (Stad) peninsula in Selje, Norway linking two fjords near the towns of Teigen and Berstad.
Peaking at 645m, the Stad peninsula is a mountainous divide between the Norwegian Sea to the north and the North Sea to the south.
The project is being proposed to reduce navigation on the existing shipping route, which exposes vessels to some of Norway's most dangerous waters, where currents and waves come from different directions, which has contributed to 46 accidents and near-accidents since 1945.
The Stad Ship Tunnel would be the world's first shipping tunnel capable of accommodating large cargo and passenger vessels of up to 16,000t.
Royal Academy of Engineering associate Robert Benaim told the BBC that the project would include the construction of a cofferdam at either end of the tunnel to keep the water out until excavation is complete.
Nordfjod Vekst project director Randi Homborstad said: "As the sea is the backbone of transport along the west coast of Norway, public transport could be upgraded with improved regularity in cargo services and a new year-round high-speed passenger ferry service between the coastal cities of Bergen and Alesund."
Construction of the new tunnel is expected to commence in 2018 and would take around four years to complete.
---
Image: Construction of the Stad Ship Tunnel in Norway is expected to start in 2018. Photo: Kystverket / Norwegian Coastal Administration.