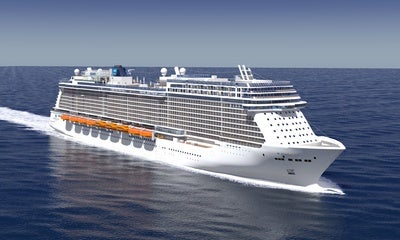 Norwegian Cruise Line (NCL) has ordered ten scrubbers from Green Tech Marine (GTM) to install on two newbuild Breakaway Plus class ships.
Each of the vessels will be installed with five GTM-R scrubbers to improve their environmental performance.
The compact size of the GTM-R scrubbers will ensure that the cruise vessels don't lose any cabin space or other service areas.
GTM's scrubbers will use one smaller scrubber for each 14.4MW-16.8MW engine in place of a large multi-inlet scrubber to cater to several engines.
The scrubbers also replace the silencer, making them suitable for cruise ships, and NCL said the installation will be largest scrubber plant in the world with a total engine output of 76.8MW.
The GTM-R scrubbers will be compliant with the 0.1% sulphur limit in Emission Control Areas (ECA) coming into effect in 2015.
NCL chief executive officer Kevin Sheehan said: "Installing scrubbers from Green Tech Marine on our new Breakaway Plus vessels is a smart decision and one that will ensure these ships are as eco-friendly as possible."
On 16 July 2013, Norwegian Cruise Line confirmed an order with Germany-based shipbuilder MEYER WERFT for a second Breakaway Plus class cruise ship, with scheduled delivery in the second quarter of 2017.
The combined cost of both vessels is about €1.4bn.
Each of the vessels will be about 163,000GT and will have about 4,200 passenger berths.
Meyer Werft delivered the first of the 146,600GT Breakaway class vessels on 25 April, 2013 and will deliver the second vessel in the series, Norwegian Getaway, in mid-January 2014.
GTM also delivered scrubbers to Norwegian's Pride of America vessel during drydocking of the vessel in March 2013; the ship will be fully operational by the end of the year.
---
Photo: The new Breakaway Plus class cruise ships will have around 4,200 passenger berths. Image courtesy of Meyer Werft.