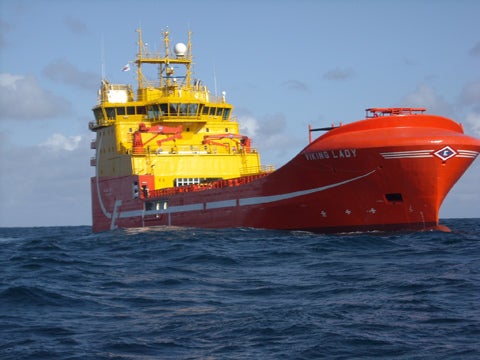 Norwegian maritime industry leaders have joined forces to develop battery-powered ships and help combat ship pollution.
As part of the initiative, about 120 representatives from the Norwegian shipping industry participated in a seminar, including representatives from Transnova/Norwegian Public Roads Administration, the Ministry of the Environment, DNV, ZEM, Siemens, and Norwegian shipowners including Østensjø, Norled and Eidesvik.
The Norwegian shipping industry plans to initially build four hybrid vessels, which are scheduled to commence operations in 2013-2014.
The Eidesvik-owned Viking Lady will also be equipped with a lithium-ion battery package in spring 2013 as part of the FellowSHIP III project, making it the world's largest fully electric ferry by 2015.
Once the battery pack has been installed, the Viking Lady will start operations using a hybrid system similar to what has been installed in hybrid cars.
Under the DNV-led FellowSHIP II project, Viking Lady has already been equipped with a 330kW molten carbonate fuel cell and it will now be installed with sensors.
According to estimates, the hybrid energy system could offer a 20%-30% reduction in overall fuel consumption and CO2 emissions through smoother and more efficient operation between the engines and fuel cell.
At a later stage, Norwegian shipping firm Norled will equip a battery package on an existing diesel-electric ferry; the company intends to use this experience to build and operate a fully electric ferry.
Starting in 2015, the diesel-electric ferry will cross the Sognefjord 34 times a day, seven days a week, carrying about 120 cars and 360 passengers.
The Østensjø-owned 'Edda Ferd' is another hybrid vessel equipped with battery and diesel-electric propulsion that is scheduled to start operation in autumn 2013.
The company said that when an OSV is operating on dynamic positioning, there will be a major fuel saving potential, while stationary the vessel should be able to use power stored in the batteries.
Hybrid systems will reduce energy consumption, machinery maintenance costs, as well as noise and vibrations.
DNV Maritime and Oil & Gas CEO Remi Eriksen said international shipping is facing a tough time with rising fuel prices, stringent environmental regulations and very low day rates caused by overcapacity in most segments.
"A major advantage of these ships is that the payback time on additional investments is expected to be two to four years compared to more than ten years for cars," Eriksen said.
---
Image: Eidesvik Offshore's Viking Lady will be equipped with a battery package in spring 2013 to make it a hybrid vessel. Photo: Eidesvik.