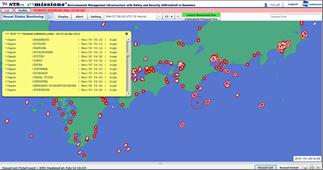 Japanese shipping company Nippon Yusen Kabushiki Kaisha (NYK) has introduced an alert system that will provide tsunami warnings to vessels.
Tsunami warnings issued by the Japan Meteorological Agency and other weather service providers will be sent to vessels via NYK's 'e-missions' system, which provides information about the positions of ships in operation as well as weather and sea conditions for intended routes.
The warnings are intended to allow affected vessels to contact those on shore and make use of the tsunami response guidelines developed and released by NYK in May 2012.
In the event of a tsunami warning, an alert will be sent in English to NYK vessel operators on land who manage the schedules and movement of vessels in service, as well as to the estimated 800 vessels that use the NYK e-missions system.
NYK e-missions will update all vessels that could be affected by the possible tsunami and allow vessel operators and NYK's Marine group to immediately contact the vessels, share information and provide any necessary help.
In addition the warnings released by the Pacific Tsunami Warning Center and West Coast and Alaska Tsunami Warning Center, the new system will also provide warnings issued for the Japanese coast covering the complete sailing area of all vessels operated by the NYK Group.
NYK's tsunami response guidelines explain how a vessel in port should react to information about an incoming tsunami, particularly by giving top priority to preserving life and then reducing damage to the vessel hull and port facilities.
---
Image: NYK's e-missions system provides information about the vessels positions in operation as well as weather and sea conditions for their intended routes. Credit: Nippon Yusen Kabushiki Kaisha.