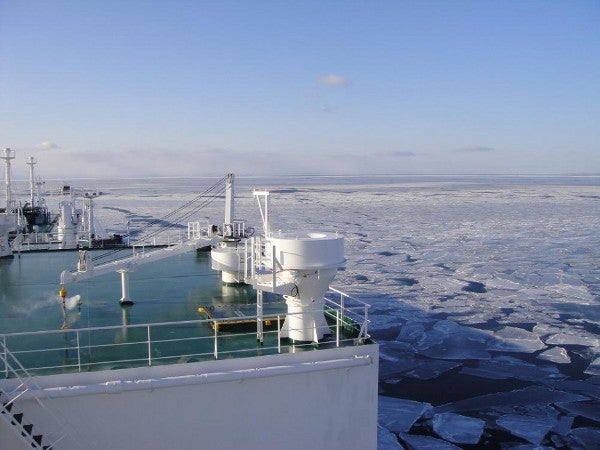 Ob River, a large tanker transporting liquified natural gas (LNG), is set to become the first oil tanker to sail from Europe to Japan across the Arctic during winter.
The LNG tanker left Hammerfest, Norway, on 7 November and is sailing north of Russia on its way to Japan using an arctic route that will take 20 days off the regular journey, according to the BBC.
A Russian nuclear-powered icebreaker has been accompanying the LNG tanker, which is expected to arrive in Japan in early December 2012.
Built in 2007, the Ob River is an ice-classed LNG carrier equipped with four membrane-type tanks capable of carrying up to 150,000 cubic metres of gas.
Greek shipowner Dynagas has chartered the Ob River with an international crew of 40 to Russian energy firm Gazprom Marketing & Trading.
Dynagas commercial director Tony Lauritzen told BBC News that the decision to use the Northern Sea Route was driven by data on Arctic melting.
"There is an observable trend that the ice conditions are becoming more and more favourable for transiting this route," Lauritzen said. "You are able to reach a highly profitable market by saving 40% of the distance, that's 40% less fuel used as well."
The vessel is currently on a five-year charter contract to Sakhalin Energy for LNG export from Sakhalin II, Russia's first LNG production project.
---
Image: The Ob River LNG tanker that left Norway in November is expected to arrive in Japan in early December. Photo: Gazprom.