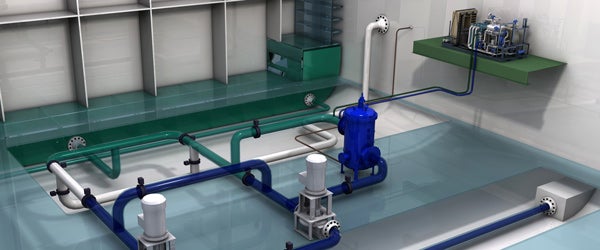 OceanSaver has won a contract from Oshima Shipbuilding to deliver ballast water treatment system (BWTS) for four open hatch bulk carriers being built for Gearbulk at their Japanese shipyard.
Each of the 72,000dwt vessel, which will be fitted with a 1,200m³/h type approved Mark II OceanSaver system, are being built to DNV class.
Based on OceanSaver's second generation design the first two systems will be installed this year and expected to require less maintenance and burn less power.
Mark II OceanSaver system results in a pressure drop of less than 0.7bar, features a back-flushing filter with 40 micron screens.
The on-board generation of oxidants delivered to the ballast flow through side stream injection from OceanSaver's C2E sea water activation module to disinfect the ballast water.
Gearbulk Norway head of projects Magne Aunebakk said that the company found the Mark II technology desirable from a full lifecycle perspective.
"DNV's type approval program for ballast water treatment equipment is robust and we believe that it minimises any risk related to design, installation and on-going operational safety," Aunebakk said.
The energy requirement for Mark II and related equipment is 50% less compared to its Mark I while it does not require any additional treatment at de-ballasting operations.
OceanSaver BWT systems perform according to IMO D-2 rules in high saline water, brackish water and fresh water.
According to the rule the BWTS must be able properly function in harbours which have very low salinity levels or fresh water.
Gearbulk operates a fleet of open hatch gantry and semi-open jib craned vessels, purpose-built to carry forest products, non-ferrous metals and steel.
So far OceanSaver has secured about 50 orders for the BWTS, the company said.
Image: Mark II ballast water treatment systems require 50% less energy compared to its first generation BWTS while and it does not require any additional treatment at de-ballasting operations.Photo:OceanSaver